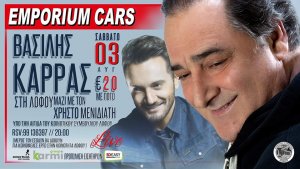 Emporium cars presents the popular Greek singers Vasilis Karras and Christos Menidiatis for a live performance.
The event will take place in the courtyard of the Lofou Elementary School on Saturday, 3 August 2019 at 20:30.
Part of the proceeds will be donated to charity.
Tickets are available at So Easy kiosks.
€20 with 1 drink
For more info call: 99136397