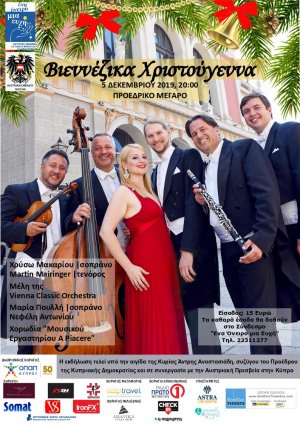 The Cyprus Association for children suffering with cancer and related diseases "One Wish One Dream", in collaboration with the Austrian Embassy in Cyprus, is organizing the "VIENNESE CHRISTMAS CONCERT 2019" on Thursday, December 5th at 8 p.m. at the Presidential Palace in Nicosia. The concert is under the auspices of Mrs Antri Anastasiades, spouse of the President of the Republic of Cyprus.
International known artists like the Soprano Chryso Makariou, who is based in Vienna and the Austrian Tenor Martin Mairingerwill present a wonderful programm accompanied by members of the famous "Vienna Classic Orchestra" who will come directly from Vienna for this concert. During the concert will be also presented as part of the "Promotion of Cypriot Young Lyric Singers and Talents", the singers soprano Maria Poulli, Nefeli Antoniou and the choir of the music school in Nicosia "A Piacere" under the artistic direction of Nikoletta Stylianou and Antigoni Fotiou.
The audience will have the chance to enjoy popular Christmas songs as well as the Highlights of Viennese Opereta and Valses.
The established Christmas concert "Viennese Christmas" was first held in Nicosia in 2015 and has been organized since then every year with great success, once in Nicosia and once in Vienna, always supporting the work of the Cyprus Association "One Wish One Dream".
The net proceeds of the event will be given to the association "One Wish One Dream"
Tickets: www.soldoutticketbox.com/