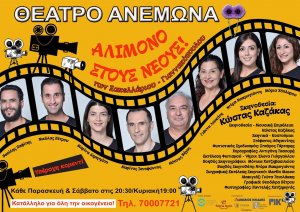 Anemona Theater presents the classic Greek comedy Woe to the Young (Αλίμονο στους νέους) by Alekos Sakellarios and Christos Giannakopoulos.
The story is based on the myth of Faust who sold his soul to the Devil.
A rich old man, Andreas, who wants to be young again, going to marry a young lady, makes a deal with the Devil. He becomes young but with no wealth anymore. He quickly spends the little cash he had and finally the girl, after her mother's pressure, rejects him to marry a rich old man.
Directed by Kostas Kazakas