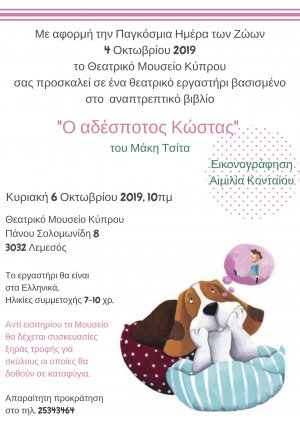 On the occasion of World Animal Day, October 4, 2019, the Cyprus Theatre Museum invites you to a theatrical workshop based on the subversive book 'The Stray Costas' by Makis Tsitas, illustrated by Emilia Kontaiou.
Sunday, October 6, 2019, 10am
Cyprus Theatre Museum
Panou Solomonidis 8, 3032, Limassol
The workshop will be in Greek.
Participation age: 7-10 years old
Instead of a ticket, the Museum will accept dog food packages that will be given to shelters.
Reservations at: 25343464