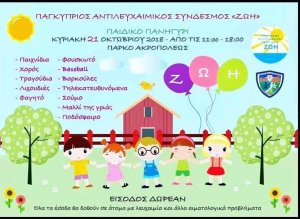 Within the celebration of its 16 years of operation and offering, the Pancyprian Antileukemia Association ZOE co-organizes with the Community Police a feast of life for our little friends at the Acropolis Park on the 21st of October 2018 from 11am to 6pm.
Our little friends will be entertained by participating in various activities such as games, handicrafts etc. Games are provided by the community police and include inflatables, boats, remote-controlled cars and horses.
They will also be available for purchase food, juices and water.
It's a chance for our little friends to learn about the purpose of volunteerism and the actions they can participate in. At the same time they will actively help to enhance the mission of the Pancyprian Antileukemia Associtaion ZOE.
All proceeds will enhance the services and programs that we provide for FREE to people who suffer from leukemia and other haematological diseases.