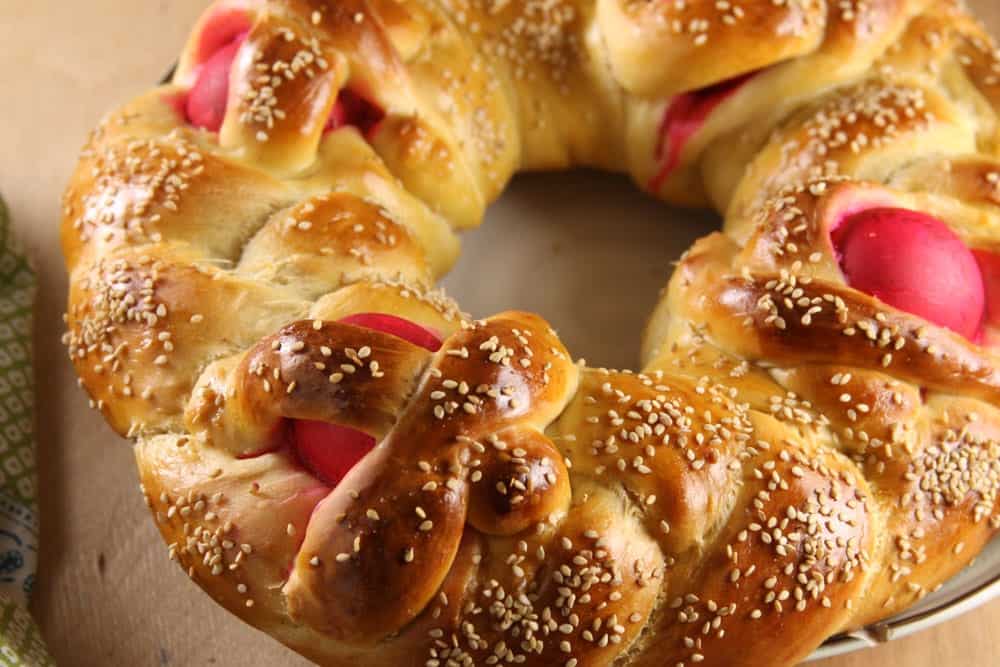 The most delicious Greek Sweet Bread – Tsoureki you will ever make is as easy as you want it to be!
Fantastic and easy recipe, step by step!
Ingredients
Mixture Α
150 g sweet bread flour or strong white flour
120 g water, at room temperature
25 g active dry yeast
Mixture Β
200 g milk
100 g butter
grated zest of 1 orange
14 g mahlab
310 g granulated sugar
3 g mastic
1 teaspoon vanilla extract
4 eggs, medium
pinch of salt
Mixture C
850 g sweet bread flour or hard flour
100 g melted butter
Preparation
Mixture Α
Place the flour, water and yeast in the mixer and mix them well with a whisk.
Leave the mixture to rest for 15 minutes for the yeast to be activated.
Mixture B
In a mortar add 1 tbsp. sugar and mastic and beat until finely ground.
Cut the butter in pieces, put it in a saucepan, then add the mastic mixture, milk, mahlab, vanilla extract and the rest of the sugar.
Place the saucepan on low heat until the butter melts and all the ingredients are completely incorporated. *
Remove the saucepan from heat and let cool for 5-10 minutes.
Add the eggs, salt and whisk thoroughly. **
Add to mixer's bowl that contains the yeast (mixture A). Beat for 5 minutes on low speed with the hook attachment.
Mixture C
Add the flour to mixer's bowl and continue beating for 10-14 minutes on low speed until all the flour is incorporated and then speed up.
Add the melted butter and beat at low speed for 5-7 minutes until the butter is absorbed.
When the dough pulls back from the sides of bowl is ready.
In a separate bowl, brush the sides with vegetable oil and transfer the dough to it.
Cover the bowl with a plastic wrap and put aside for 1- 1 ½ hours, until it doubles in size.
Formation
Divide the dough in two pieces and then cut each part in four equal sized pieces. Then shape into 50cm round strips.
Tsoureki has the form of braids and in order to create the braid, you must connect the four ends on one side.
Name each strip a number, 1-2-3-4.
Fold strip 4 over strip 2. Strip 1 over strip 3 and strip 2 over strip 3. Repeat this process until you make a beautiful braid.
Carefully transfer the braid to a baking pan with cooking paper and follow the same process for the second sweet bread – tsoureki.
Preheat the oven 150ο C fan.
Cover the sweet breads with a plastic wrap and let them to rise for 30 minutes.
Brush with the egg***, sprinkle with almond and bake for 50-60 minutes.
Tips
* Attention! You do not want the mixture to boil. Only to warm a little.
** The eggs should be 50g each, 200g in total.
*** The yolk of the egg mixed with little water.