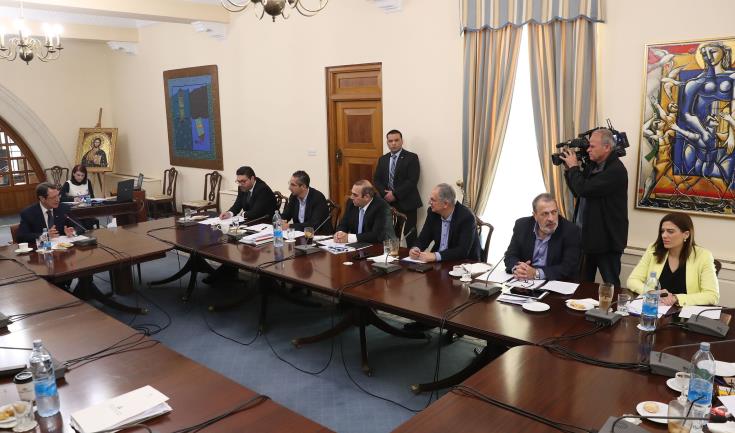 Health, Finance and Labour Ministers Constantinos Ioannou, Constantinos Petrides and Zeta Emilianides assured on Sunday evening that the measures in place aim to protect the economy, businesses and workers and called on students studying abroad not to travel to Cyprus during the next month.
The three Ministers replied to journalists' questions during a press conference, at the Presidential Palace.
Finance Minister Constantinos Petrides said that "it is an extremely difficult and unprecedented situation" for the country and that no government policy, no matter how well planned can replace collective and individual responsibility that all of us should have."
"Stay at home, work from home, stop unnecessary movements," he noted, adding that practical problems may occur as a result of government policies and that it will be "a trial for all of us."
On his part, Ioannou said that it is expected that confirmed cases with coronavirus will increase and assured that from the very beginning Cyprus has been following the ECDC's guidelines in immediately finding out who the people who contracted the virus came in contact with and making sure that they self – isolate so that the chain of transmission is broken.
Together with Italy, Cyprus has made the greatest number of diagnostic tests in relation to its population, while in absolute numbers it has made more diagnostic tests than much larger countries.
Replying to a question as to how public finances will be affected the Finance Minister said that they certainly will but it is too early to make projections. He noted that the policy followed by the government so far of having balanced budgets or surpluses has meant that it is in a position today to shield the health system, social cohesion and small businesses.
"It is our duty, during this period, to support the economy as much as possible," he said, adding that "this is what we are doing."
He further expressed his conviction that the economy will start recovering, once the virus is contained in the greatest possible extent.
Asked what will happen with passengers arriving in Cyprus' airports after 1800 hours local time on Monday, Health Minister Constantinos Ioannou, made it clear that only people with a certificate of coronavirus examination by state reference laboratories or by laboratories which have an agreement to do such diagnostic tests by the state of provenance.
He added that a notice to airmen (NOTAM) has been issued by the Ministry of Transport, Communications and Works on the basis of which airlines will not allow the boarding of anyone without such a certificate.
"I urge people, if they do not have this certificate not to even bother going to the airport at the country of departure," he stressed. He added that even people with a certificate will be placed under quarantine for 14 days in premises which have been selected by the state.
Asked about passengers arriving from the UK he said that no exceptions can be made.
Petrides on his part, explained that the goal is not to make it easy for people to come to Cyprus, hence the strict measures in order to protect public health. Students studying abroad should not come to Cyprus, he noted, urging them "to stay abroad during this period." Strict measures are necessary to protect public health, he said.
The Minister of Health repeated the businesses which are affected by the suspension order, adding that all other activities are allowed but that retail businesses should not have over five people working at any given time in their work space and that customers cannot be over one person per 8 square meters. This he clarified is also in effect for businesses offering take-aways.
Asked whether there are criteria in place for a subsidy of 750 euros to be given to students, he explained that there are no discriminations and that it concerns all students studying abroad.
Labour Minister Zeta Emilianides said that mobile units will be in hand, with the help of volunteering NGOs, to provide people who do not have the support with food, medicine or any other necessary items at their homes.
She also assured that the social insurance fund is healthy enough and can deal with many of the matters which employees are worried about.
Replying to a question about businesses who have a loss of 25% of their annual turnover she said they can apply for a suspension scheme and their staff will be under a suspended work status and receive unemployment benefits in order to return to their work once the crisis is over.
Petrides said that one of the main aims of the package announced is to prevent the permanent loss of jobs. "When due to a deep crisis, whether short-term or long-term, many people remain unemployed then it is very difficult for an economy to deal with it." That is why, he added, we have invested in these schemes so that we can withstand the great shocks to the economy, without having people lose their jobs or businesses going bankrupt, to the extent that it can be prevented.
Source: CNA