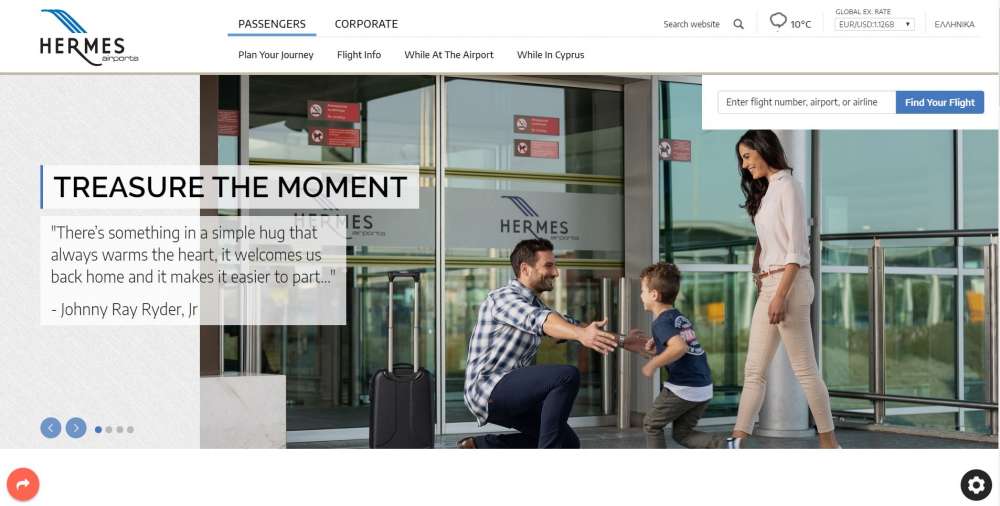 Hermes Airports  have launched a new and upgraded website it says offers users an easier and faster navigation, a structured design and is accessible to people with disabilities.
Hermes Airports website redesign (www.hermesairports.com) took into consideration a more human-focused approach to 'feel and sense', aiming to provide a better service to the public and the passengers as well as to the associates of the company. The new website has a responsive design which immediately adjusts on all devices (desktop, tablet, smartphones).
The company said its the site's clean design and renewed sitemap provide users with the information they search for; as they have the option to view specific information for passengers or organisations by clicking on one of the main tab categories "Passenger" or "Corporate". At the same time, the content layout gives emphasis on the airport services, as well as recommendations on things to do and upcoming events in Cyprus.
The website design is WCAG (Web Content Accessibility Guidelines) compliant, making its content accessible to people with visual impairment, reduced mobility and disabilities.
In the immediate future, the website will offer a new service to airlines which will provide data analysis and market insights according to their needs. It will also provide an interactive digital portal of Welcome magazine; presenting Cyprus through the eyes of  locals.
The website was designed by Global Reach, a company based in Ames, Iowa in the U.S.A, with a branch in Cyprus. The company has a 20-year experience and a wide client portfolio, specializing in website design based on the latest security, technology and WCAG compliance standards.
Discover the new website through the following video:
Source: Cyprusdaily