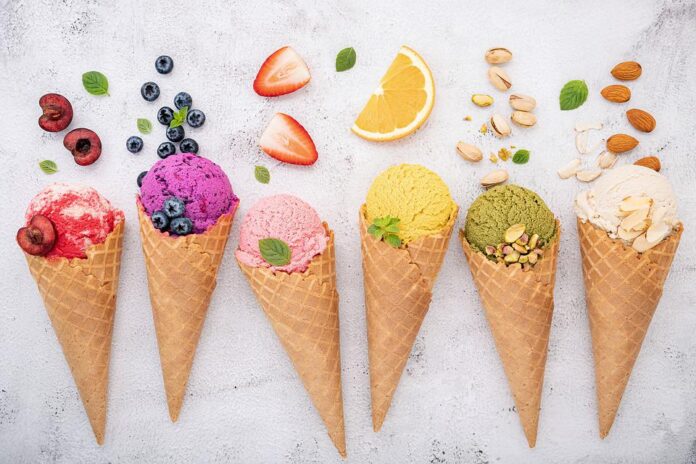 Ice cream is the king of summer and few can resist the sight of a delicious ice cream!
Ice-cream is the undisputed king of summertime treats. Everyone loves it, whether young or old, men or women. It's cold, it's refreshing, and most importantly, it's delicious!
In essence, ice cream is the frozen dessert, which is usually made from cream and milk.
Milk-free ice cream is called granita and usually covers fruit flavors such as lemon or apricot.
The meaning of the word "ice cream" varies from country to country.
However, to separate different varieties and types of ice cream, terms such as: frozen yogurt, sorbet and gelato are used.
The most widespread view of the origin of ice cream is that of Chinese origin, that is, the ice cream is made specifically from Himalayan snows and cream of rice flour, milk and honey.
Many times, ice creams are decorated with various ingredients such as fruit, whipped cream, pies, chocolate or colored truffles, cookies or even syrup, it can be chocolate, strawberry, caramel and cherry or others.
Bulk ice creams, with which the customer can make flavor combinations, are served in a cone, cup or wide glass and are consumed with special ice cream spoons that have a long body.
Ice cream can also be served in balls as an accompaniment to crepes or pies (mainly apple pie) but also to syrupy sweets (such as baklava or kadaifi). Also, there are packaged ice creams on a stick and ice cream sandwiches.
Although today there are ice cream shops, few have "survived". They work either in a bicycle-cart or in a van, which transports the refrigerator that keeps the ice cream. There are also ice cream parlors that have a permanent place to sell their ice creams.
The most common ice cream flavors are:
Chocolate
Strawberry
Banana
Cream or Vanilla
There are many others such as:
Watermelon
Melon
Hazel
Apricot
Peach
Nectarine
Soldier
Tiramisu
Mocha
Lemon
Rum
Mint
Oreo cookies
Bueno