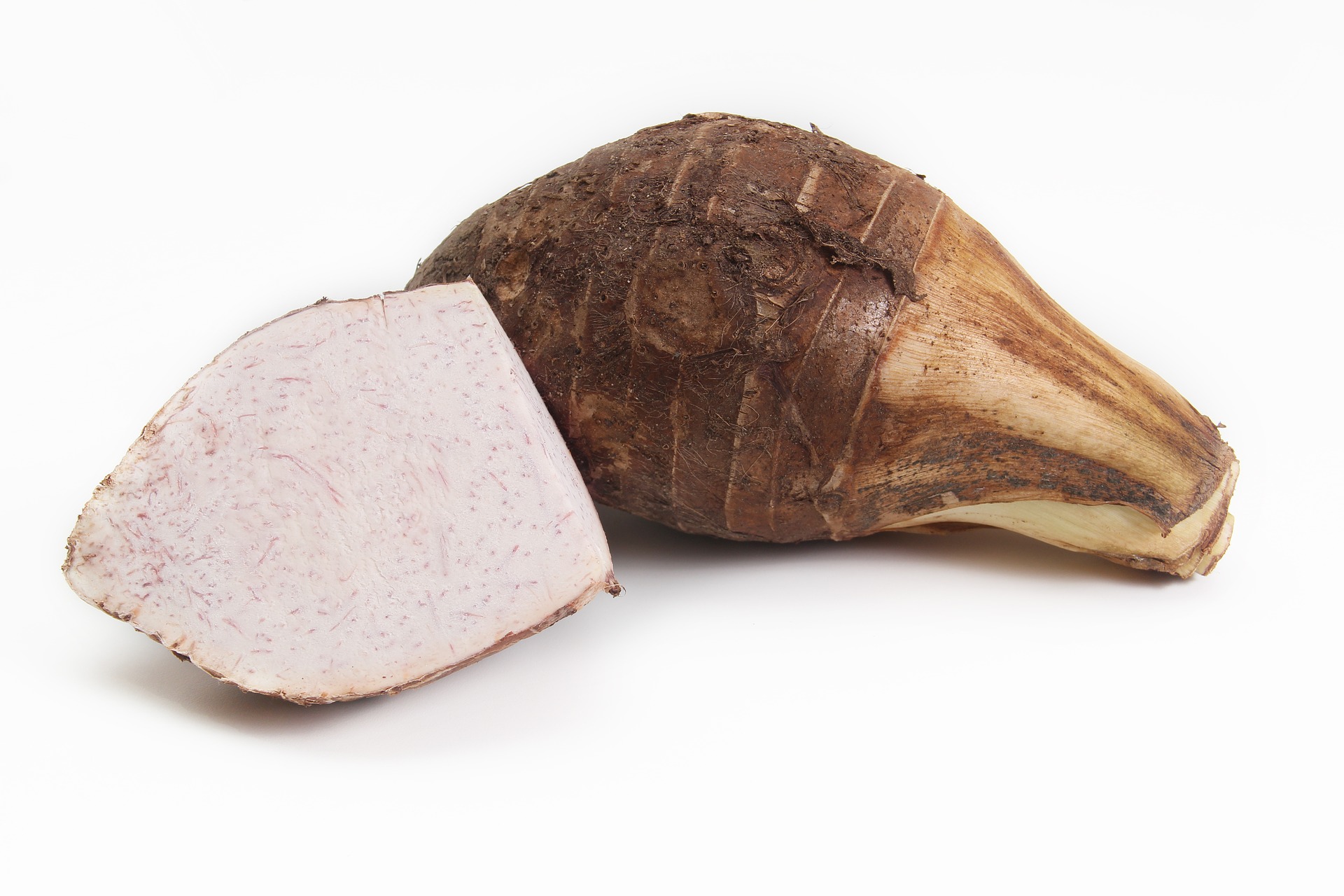 Kolokasi is a root vegetable only grown in substantial quantities in Cyprus and Ikaria in Greece. There are different kolokasi varieties but the Cypriot variety is known as Colocasia Esculanta.
Kolokasi is a popular dish in the Cypriot cuisine and is cooked in tomato sauce, sometimes on its own or meat, pork or chicken.
It's important to remember that you don't wash kolokasi with water before cooking.  The right way to peel it by holding it with kitchen paper, and with a sharp knife you peel it rather deep and you keep wiping it with the kitchen paper during the peeling process.
There's also a specific technique for cutting kolokasi. You have to hold the kolokasi in one hand and with a sharp knife you make a cut on it and with the help of your thump you press on the knife and you "snap" a small piece off.  You carry on the same process all round until you "snap" each root into small pieces.
Ingredients:
2 Kolokasi bulbs
2 onions chopped
1/4 cup (60ml) olive oil
1 Tablespoon tomato paste (dissolved in half cup hot water)
2 vegetable stock cubes crumbled
2 cups celery leafs roughly chopped
1 lemon juice or if possible bitter orange
2 x 400g tinned chopped tomatoes with herbs
2.5L (10 cups) hot water
1/2 teaspoon sugar
Salt
Pepper
Steps:
Heat oil and add onions, cook in low heat while covered and stir occasionally until onions become soft. Add the celery and continue cooking in low heat for 5 minutes.
Add the kolokasi and keep stirring occasionally for another 5 minutes. Add the tomatoes and tomato paste, the vegetable stock cubes and the sugar. Leave to boil for 10 minutes while stirring occasionally.
Add enough hot water to cover it and let it simmer for about 11/2 hours while stirring occasionally or until the kolokasi is soft and the sauce is reduced.
Stir in the lemon or bitter orange juice, and add salt and pepper for the taste. Remove from heat and serve with black olives, red radishes and green salad.
If you choose to cook with pork or chicken, firstly you need to brown the meat in your olive oil for a few minutes and then set aside. Then proceed with the rest of the recipe and use the same oil you used to brown the meat to fry the onions and celery. At step 3 of the recipe, add the meat and let it cook and simmer with the kolokasi.