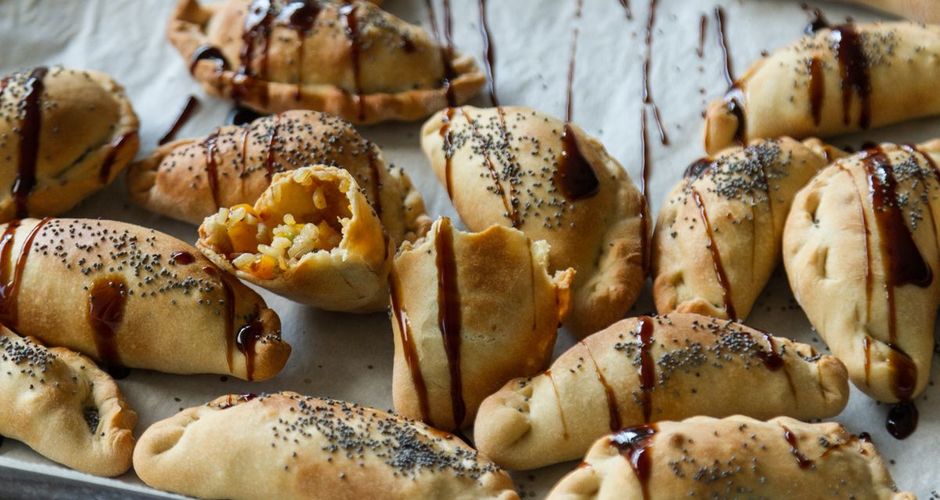 This traditional Cypriot recipe called "Kolokotes" is made with raisins and bulgur.
Ingredients
For the filling
1kg pumpkin
100g coarse bulgur
30g vermicelli noodles
100g small raisins
½ large finely chopped onion
2 tps olive oil
1 teaspoon cinnamon
2-3 tps granulated sugar
½ teaspoon black pepper
2 tps balsamic cream
poppy seeds, for sprinkling
For the dough
530g bread flour (hard flour)
130g all-purpose flour
1 teaspoon salt
4 tps olive oil
4 tps sunflower oil
2 tps vinegar
50g fresh orange juice
300g lukewarm water
extra flour for dusting
Method
For the filling
Take off the pumpkin's peel and cut into cubes (2×2 cm).
Put the cut cubes in a bowl and leave aside.
Place the chopped onion, sunflower and olive oil in a pan and sauté (medium heat) for about 5 mins. They will be ready when they are soft and become light golden.
Then, place the vermicelli noodles and the bulgur in the pan and sauté until they turn golden. 
Add them to the bowl with the sautéed pumpkin along with the rest of the filling ingredients except raisins and mix until fully blended.
Cover the bowl with a membrane and refrigerate overnight. Keep in mind that the pumpkin will release all of its juices and the bulgur will absorb them. On the next day add the raisins and leave aside until the mixture is needed.
For the dough
Place the all-purpose flour, the hard flower, sunflower oil and olive oil into a large bowl and mix until fully combined. You need to rub the mixture with your fingers until it looks like wet sand.
When it's done, make a small hole in its center and add the water, orange juice, vinegar and salt. Mix until the mixture turns into an elastic and smooth dough.
Shape the mixture into a ball, wrap it in membrane and refrigerate for at least 1 hour.
Preheat the oven to 180oC Fan.
When the dough is rested, remove it from the refrigerator and cut it into small pieces. Take 1 piece (cover the rest of the dough with a towel) and knead on a lightly floured surface until it becomes a thin sheet.
Use a round 10cm cutter to cut out the dough. Then, on each cut circle, add a large spoon of the filling. Remember to place a small bowl of water next to you and wet the perimeter of the dough circles before folding the circle to create half-moons.
Use a fork to press down on the edges and seal the pumpkin pies.
Repeat the same process for the rest of the dough and filling.
Place a baking paper on the oven pan, place the pies (leave space between them) and brush lightly with some orange juice.
Bake for 30-40 minutes until pies turn golden.
When they are done, sprinkle with poppy seeds, drizzle with balsamic cream and serve.