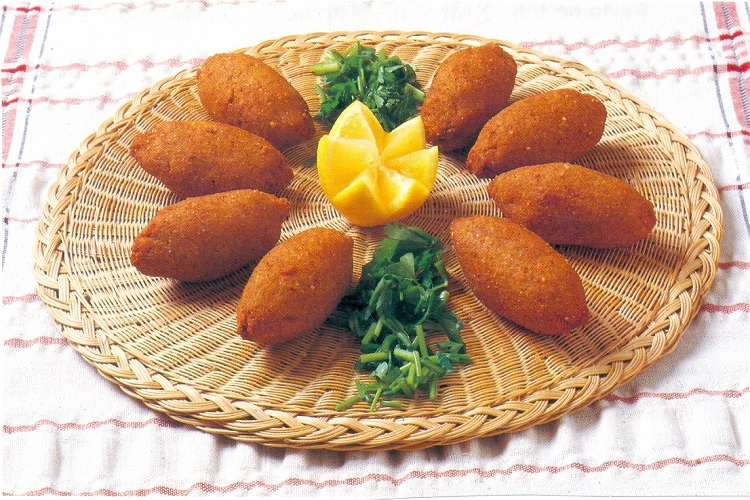 Koupes is a traditional Cypriot street food, which is served as a snack, party finger food or even after food!
Ingredients
For the dough
250 g fine bulgur wheat, beaten in a blender
350 g hot water
salt
pepper
cinnamon (just a pinch)
2 large eggs, lightly beaten
For the filling
2 tablespoons olive oil
300g ground meat (beef, pork, or lamb)
2 medium chopped onions
½ teaspoon cinnamon
salt
black pepper
1 clove of chopped garlic
½ bunch chopped parsley
¼ bunch fresh chopped coriander
oil (for the frying)
lemon juice and slices for serving
Method
For the dough
Rinse the bulgur 2-3 times (make sure the water is clean in the end)
Drain it in a towel to remove the water.
Put in a bowl, add the hot water and leave it to absorb the water.
Add salt, pepper and cinnamon.
Add the eggs slowly and mix.
Press very well, until the mix becomes soft and looks like a dough. If needed add a little water.
Cover the mixture and put in the fridge for at least 1 hour and start preparing the filling.
For the filling
Place a frying pan on the heat at medium. When hot, add the olive oil and the ground meat.
Fry the ground meat until browned, and then add the onions, cinnamon, salt, and pepper. Keep frying until the onions turn golden.
Add the garlic, sauté for one more minute, and then add the parsley and the fresh coriander.
Remove from the heat and set the ground meat aside to cool.
To assemble
Place water in a bowl and then take a small ball from the bulgur mixture.
Wet your fingers a little and roll the ball to be shaped like a disc.
In the centre of the ball, place the ground meat's mixture (a teaspoon) and fold the bulgur around it so that the filling remains in the centre of the dough.
When you finish with all the mixture, place all the koupes in a plate.
Place a pot (medium size) on medium heat and fill with olive oil.
When the oil is hot (180°C), fry the koupes until they turn nicely golden.
Serve with lemon juice and slices.