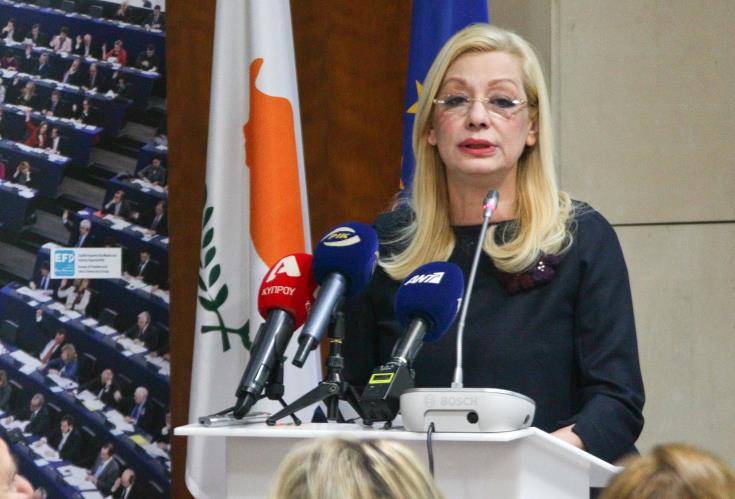 Measures to support employment, workers and vulnerable groups of the population from the effects of the coronavirus protection measures, which are expected to cost an estimated € 159m, have been announced by the Minister of Labour, Welfare and Social Insurance Zeta Emilianidou on Sunday.
The measures including granting leave to workers in the private sector who have to stay home ot take care of their children, unemployment to workers where the companies suspended operations or they will suffer a 25% reduction in turnover due to coronavirus protection measures, sickness benefits, and remuneration for those who teach in the afternoon school of the Ministry of Education.
Emilianidou said procedures will be simplified so that the benefits can be paid the soonest.
Parents in the private sector with children up to 15 years of age, will be allowed special parental leave up to four weeks, not including holidays, and a grant of up to 2.500 euros will be given.
A parent with a salary of up to € 2,500 for the first € 1,000 will receive a 60% special leave allowance, while for the next € 1,000 a 40% allowance will be paid.
In the case of single-parent families the ratio varies between 70% and 50%, respectively.
It is clarified that parental leave for childcare will be granted if the nature of the parent's work does not allow working from home or flexible working hours and if there is no outside assistance. This excludes the help provided by grandparents.
For the public sector, workers who need to take care of their children will have to consult with their head of department.
The cost of the grant is estimated at €20mn euros for one month.

Regarding those businesses that have decided to suspend their operations and those that will continue to operate, but have suffered a loss of turnover of more than 25%, a business suspension plan will be introduced to avoid layoffs. At the same time affected employees will receive unemployment benefit for as long as the business is suspended. The cost of the plan is estimated at €110 mn.
In addition companies employing up to 5 persons will receive a 70% subsidy for their employees` salary costs provided that these companies retain their employees at work and have a reduction in their turnover by more than 25%.
Workers who are facing special health problems and are included in the list which the ministry of Health will announce and need to stay home to protect their health, will receive a €800 grant on a monthly basis.

To help self-employed workers the sickness benefit will be paid in exactly the same way as employees, from the fourth day instead of the ninth as it is today. It was also decided to extend the timeframe to appeal to Social Security for self-employed for one month until 30 April 2020.
She also announced that mobile units will be created to help elderly and vulnerable people by providing them with food and medicines when they are isolated and need state support.
Source: CNA