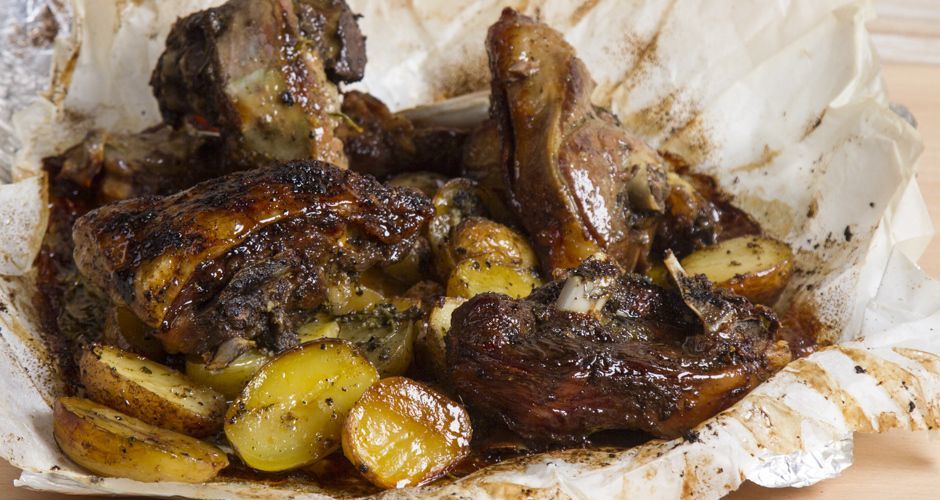 Kleftiko is a traditional Cypriot meal, with lots of aromas and of course, unbeatable taste!
The recipe is not too difficult to execute BUT you have to remember that time is important when making kleftiko while rosemary is the secret ingredient!
Usually, kleftiko is cooked in a clay oven, however if you do not have one, kitchen oven is fine as well!
Ingredients
4 cloves of garlic
100 g butter, real butter (50+50)
grated zest and juice from 1 lemon
3 tablespoons fresh oregano, finely chopped
¼ teaspoons ground cinnamon
1 tablespoon rosemary, finely chopped
salt
freshly ground pepper
1 ½ kilo leg of lamb, bone in and cut into portions
1 kilo baby potatoes, cut in half
Preparation: 
In a food processor, add the garlic, 50 g butter, lemon zest, oregano, cinnamon and rosemary. Beat until the mixture becomes a paste. You can also use a mortar and pestle to do this.
Season with salt and pepper and massage the aromatic paste all over the lamb.
Transfer lamb to a bowl and cover with lid, sealing well.
Refrigerate overnight or for at least 3-4 hours.
The following day, tear off 2 large pieces of aluminum foil and 2 large pieces of parchment paper that are 1 meter long, each.
Remove the lamb from the refrigerator one hour before you are ready to cook so that it can come to room temperature.
Preheat oven to 150* C (300* F) Fan.
Place the parchment paper over the aluminum foil in a crisscross manner.
Season the baby potatoes generously with salt and pepper. Place over the parchment.
Add the lamb over the potatoes. Cut the remaining butter into small cubes and scatter over the lamb and potatoes. Add the grated zest and the juice from 1 lemon.
Wrap in the parchment and aluminum and transfer to a baking pan.
Roast for 4 hours.
When 4 hours have passed, turn oven temperature up to 200* C (390* F) Fan, and roast for another ½ hour, until the lamb is golden brown.
When ready, remove from oven, cover and set it aside and let it rest for 30 minutes before serving.
Serve with your choice of salad.
If you want the potatoes to become more golden, you can roast them for 30 minutes, while the meat is resting.
You can also add any vegetables you like along with the potatoes. A great combination is bell peppers along with cheese like gruyere.