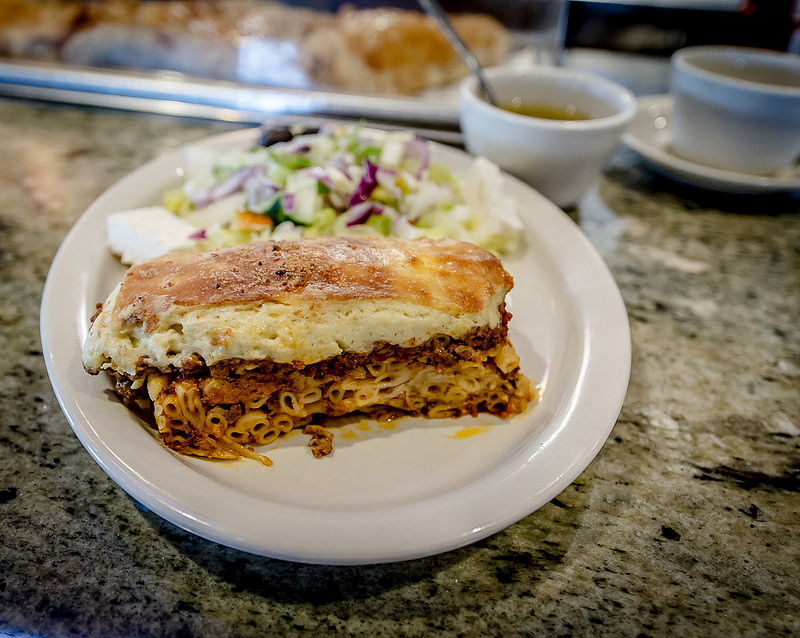 Ingredients
500 g (1 package) thick pasta (Ziti)
100 g (1 cup) grated kefalotyri
2 tablespoons of butter + extra for the pan
Salt, grated oregano.
Mince sauce:
½ kg of minced beef
1 teaspoon of butter
1 small onion, finely chopped
1 clove of garlic, finely chopped
1 teaspoon of oregano
2 tablespoons of chopped parsley
125 ml (½ cups) of white, dry wine
1 canned chopped tomatoes (about 400 g)
2 egg whites (store the yolks for Beshamel)
Salt Pepper.
Beshamel
1 liter (4 cups) of milk
75 g (4 tablespoons) of flour
90 g (6 teaspoons) butter
100 g (1 cup) grated kefalotyri
1 egg + 2 yolks, slightly beaten
Salt, pepper, nutmeg
Step 1
Prepare the sauce with minced meat: Heat the butter in a saucepan and cook the mince with the onion and garlic until they are golden brown, breaking the pellets if they are formed. Pour in all the ingredients except whites and add salt and pepper. Allow the sauce to simmer in moderate heat for about 15 minutes until it is tied and removed from the fire. Allow to cool and then stir in the egg whites.
Step 2
For bessamel, melt the butter in a small saucepan, and when it's foam, stir the flour until it starts to brown. Remove the pot from the heat and stir the milk. Put salt and pepper, sprinkle a pinch of nutmeg, return the pot to the heat and continue to stir the mixture until it cools and coals. Add, always while stirring, egg with yolks and grated cheese and remove the pot from the fire. Preheat the oven to 180 ° C.
Step 3
In the meantime, boil the spaghetti in a lot of salted water and, when softened, drain them. Return them to the pot and stir in the butter and half the cheese. Butter a large baking dish and put half pasta in it. Spread over the sauce with minced meat and then spread over the beiamel. Scrape the remaining grated cheese and a little oregano over the top and bake the pastitsio in the oven for about 1 hour until the surface is well brown. Allow them to sit for at least 15 minutes before serving them.