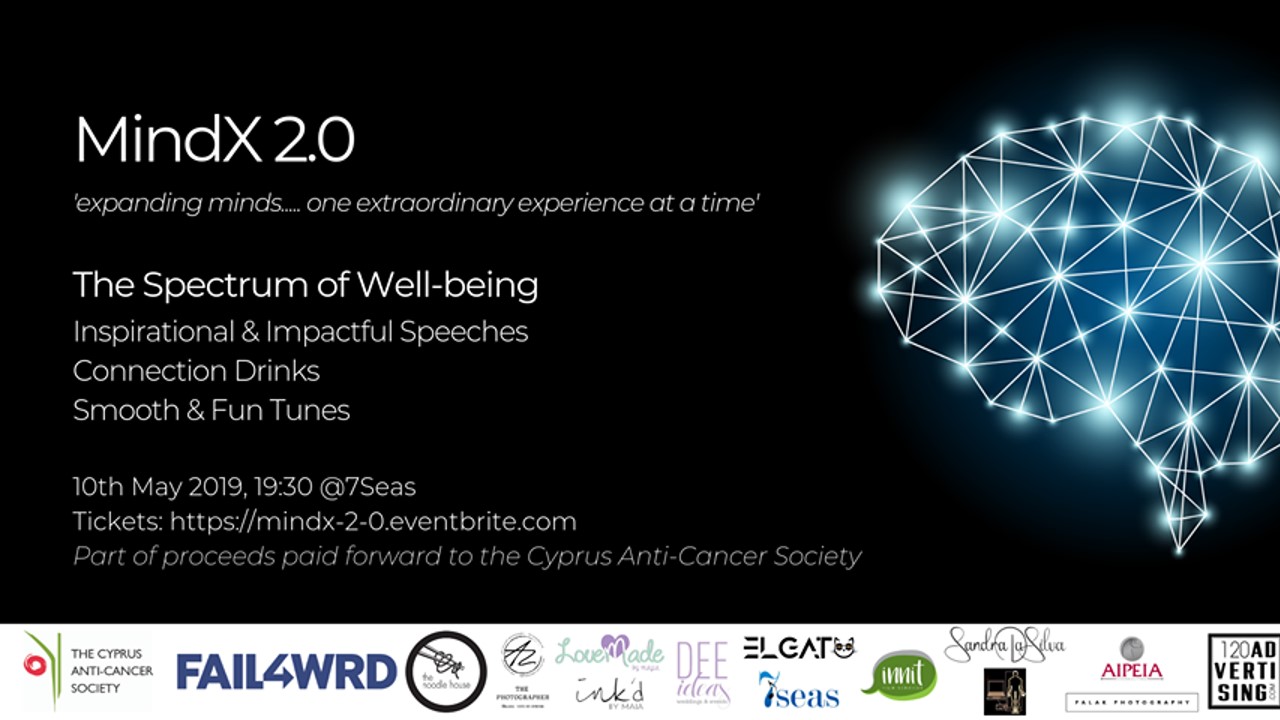 MindX2.0 is returning on Friday, 10th May to Limassol's 7Seas following a successful debut at the end of 2018. The unique, thought-provoking social and charity event, organized by Walid Khabbaze, is introducing a brand new theme and a shiny line-up of new speakers in its second unique gathering.
With a wealth of new speakers addressing the theme 'The Spectrum of Well-Being' MindX2.0 is set for an eclectic, exciting, grand event at Columbia Plaza connecting like-minded people in a social setting while still paying it forward by allocating a donation to the Cyprus Anti-Cancer Society for the second consecutive year. The striking line-up is filled with stellar names from different backgrounds including, world renowned Holistic and Energetic Medicine Specialist Dr. Igor Četojević, world leading expert in performance based digital marketing and entrepreneurship John Lewis, and Toastmaster Andros A Zacharia. In classic MindX style, speeches will be short, impactful and spread throughout the party.
"MindX has exploded far beyond my expectations. Following the first event's success I've seen growing interest in repeating the experience. Instead we won't just repeat it but ensure that we're constantly growing and developing into new and bigger territories" MindX Founder and Organizer Walid Khabbaze said, "Once again we are blessed with inspiring speakers and an astounding collection of generous sponsors who support the event as well as the cause."
Organizations and companies the likes of Noodle House, FAIL4WRD, Dee ideas and 7Seas are onboard as sponsors and supporters while Integrated Advertising Agency 120ADVERTISING continues to be the event's media partner.
MindX was introduced to Cyprus last September and enjoyed great success inducing "inspiration from all speakers" and opening people's eyes to "… a wealth of hidden talent and positive potential among the young people in Cyprus today". MindX introduced attendees to new ways of thinking and alternative self growth and development methods. The event attracted a collective audience from all walks of life who thrive on personal growth and true connections in addition to donating more than €2.000 to the Cyprus Anti-Cancer Society.
"We experienced a new level of connection and inspiration at MindX1.0 with a grand gathering of spectacular minds and an open-minded audience eager to learn, expand and be inspired" said 7Seas General Manager Panagiotis Petrou, "that's why there was no hesitation in collaborating once again with Walid to recreate the same magic".
The first event quickly put MindX on the map within Cyprus' social and intellectual society for being a pioneer in combining mindfulness and self-development with Cyprus' social scene ensuring a well-rounded experience for all guests. A second event by the organization reinstills the expectations that MindX will only continue growing in the near future.
MindX2.0 starts at 7:30 pm on Friday the 10th of May at 7Seas. Tickets are available online, at Columbia Plaza and at the door. Open bar and canapes will be included.
About MindX
MindX is a Cyprus-based event planning organization with a solid mission to expand minds, one extraordinary experience at a time. Through events and a social network, MindX aims to enhance people's awareness and well-being – which is the greatest social purpose of all. Helmed by founder Walid Khabbaze, MindX is dedicated to combining self-development, social gatherings and charity to create unique experiences for its audience.
Source: Cyprusdaily