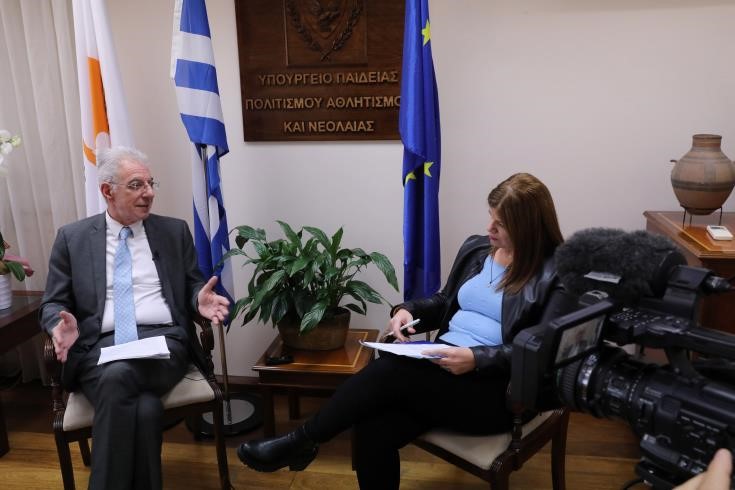 The school year will be completed, Minister of Education, Culture, Sport and Youth, Prodromos Prodromou told CNA, adding that there will be solutions for the children to continue school and for graduates to achieve a credible school leaving certificate and compete for positions at the public universities in Cyprus and Greece.
As we get a clearer picture of how things develop, with the data provided by the government advisors and epidemiologists, we will be able to announce how the rest of the year will be completed, he said.
The Minister held teleconference with the parents' associations from all levels of education. He said the discussions were constructive, noting they provided useful suggestions. He also informed them on the course of online education and support as well as the next steps.
 
He informed the parents on the ministry's planning for the rest of the year and about the graduates and the Pancyprian admissions' tests "as they are a priority and concern for all".
The Minister urged teachers to continue providing educational support to children during the next two weeks which are part of the Easter holiday. He suggested they take a break from Holy Thursday until Easter Tuesday.
It is important to maintain communication and a sense that teachers are standing by the children, he added.
Regarding planning, he said as the days go by, we will have a clearer picture and with the data provided by the government's advisors and epidemiologists, we will be able to announce how the rest of the school year will continue.
As far as graduates are concerned, he said the children will be examined for the material they have covered until 13th of March. However, there will be announcements. "We will provide solutions for the children's school career and for graduates to claim positions at the public universities of Cyprus and Greece on equal terms with credible procedures", the minister added.
The minister said he assured parents, especially those of elementary education that the support will continue.
Asked if planning will be disrupted if the exams for entry to the Greek universities take place in September, Prodromou said "we don't have planning for September". However, he said that if the epidemiological situation is altered, then we cannot exclude anything. The effort is to prepare the exams before the enlistment of the new National Guard conscripts, the minister said.
He further added that all children that do not have tablets will be given while internet services will be installed in all the 2000 cases which applied.
Source: CNA