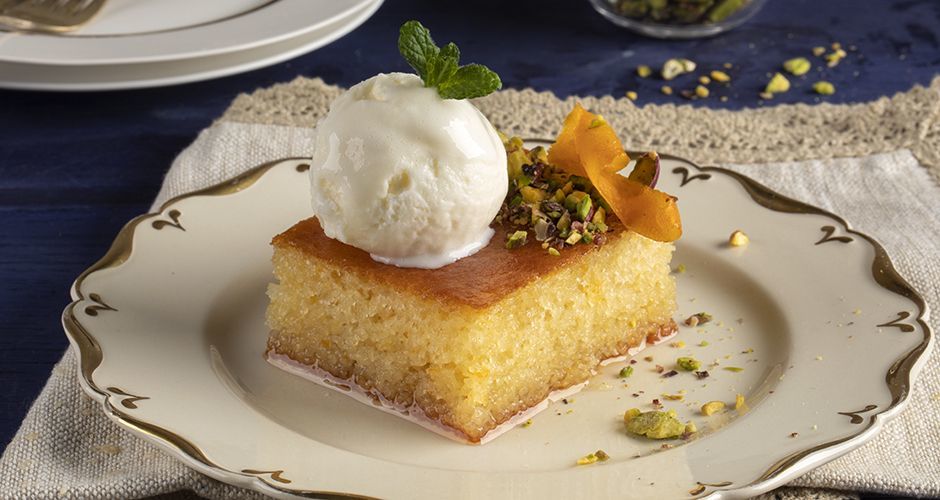 An amazing, easy dessert to satisfy your sweet tooth 🙂
INGREDIENTS
For the syrup
900ml water
1200g granulated sugar
2 tablespoon honey
peel, of 1 lemon
1 stick cinnamon
For the cake
215g granulated sugar
1 1/2g mastic
8 eggs
1 teaspoon vanilla extract
250g melted butter
200g semolina
200g soft flour
2 tablespoon baking powder
zest, of 1/2 lemon
METHOD
For the syrup
Place a pot on heat, medium to high.
Add in the pot the sugar, cinnamon stick, water and lemon rind.
Let the mixture boil and when the sugar is melted completely, take it off from the heat.
Add the honey and stir and then place aside to let it cool completely before pouring it on the cake.
Add the honey at the end, to avoid losing its aromas during boiling.
For the cake
Preheat oven at 180* C.
Beat 15g of the sugar (out of 215 g total) and the mastic in a mortar until they are finely grinded.
Add the remaining 200g sugar and stir until completely combined.
Place the mixture to a mixer and add the lemon zest, vanilla and eggs.
Blend on high speed for 5-6 minutes until you see a light and fluffy mixture.
Set the mixer's speed lower and place the melted butter. Blend for 20-30 seconds and put aside.
Combine the semolina, flour and baking powder in another bowl.
In the mixer, insert the dry mixture into the wet ingredients and with a wooden spoon stir gently.
Place in a 25×35 cm, greased with butter, baking pan and spread it evenly to cover all surface.
Bake for 35-40 minutes.
When baked, remove from the oven and instantly pour the already cooled syrup on the cake with a spoon. If you pour it all at once, the cake will crack, so pour the syrup little by little.
To help the cake absorb the syrup easily, pierce the cake with a knife.
Let it aside for 30 minutes at least and then place it in the refrigerator to chill.
Use your knife to run it along the edges of the baking pan to unstick any stuck parts and ease the removal of the pieces.
Cut in pieces and serve.
*Tip: Add pistachios and vanilla ice cream before serving for additional flavor 🙂
Enjoy ?