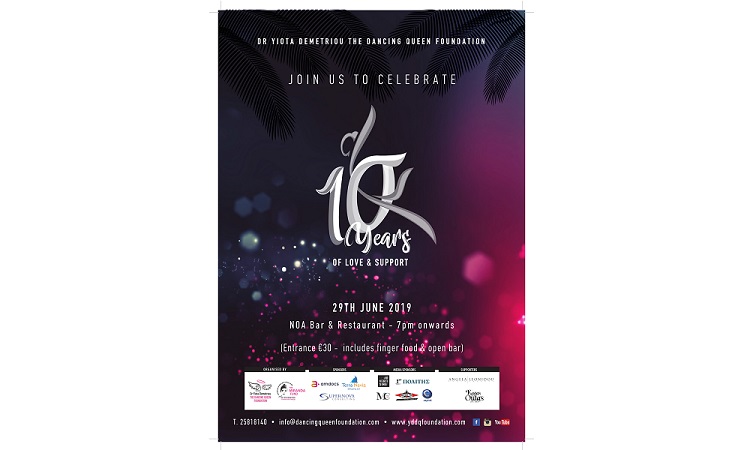 The Dr. Yiota Demetriou – Dancing Queen Foundation will be hosting its 10th Year Anniversary Party by the Sea, on June 29, 2019 at NOA Restaurant and Bar (Famagusta Nautical Club) in Limassol.
The event celebrates the foundation's 10 years of continuous success, and all supporters, members and friends of the foundation are invited to come and celebrate and find out the achievements and the future goals of the Foundation.
The Foundation was set up by friends and family in loving memory of the late Dr Yiota Demetriou whose vision to help children in the field of child psychology was tragically cut short as the result of being killed by a drunk driver. Although Dr Yiota Demetriou did not live to realise her dream, the Foundation continues to keep her vision alive by making a real difference in the lives of children and teenagers in need of therapy. Under the Foundation, the Miranda Fund was established to help children with Special Needs, therefore giving the charity a wider scope to help children in more areas. The Foundation aims to raise funds in order to provide financial assistance to the families and also strives to educate and promote the awareness of mental health issues and the adverse effects they have on the children of our society.
These aspirations would not be possible without the continued support and generous donations of all who attend the fundraising events. So put your "summer mood and outfit" on and join us at the 10-year anniversary party by the sea for a good cause and a night to remember.
Venue: NOA Restaurant and Bar, Limassol
Date: June 29, 2019
Time: 19:00
Price: €30 (including drinks and finger food)
Sponsors of the event: Amdocs, Terra Navis Shipping LTD, SUPERNOVA Consulting
For more information and tickets call 25818140 or email [email protected]
Source: Cyprusdaily