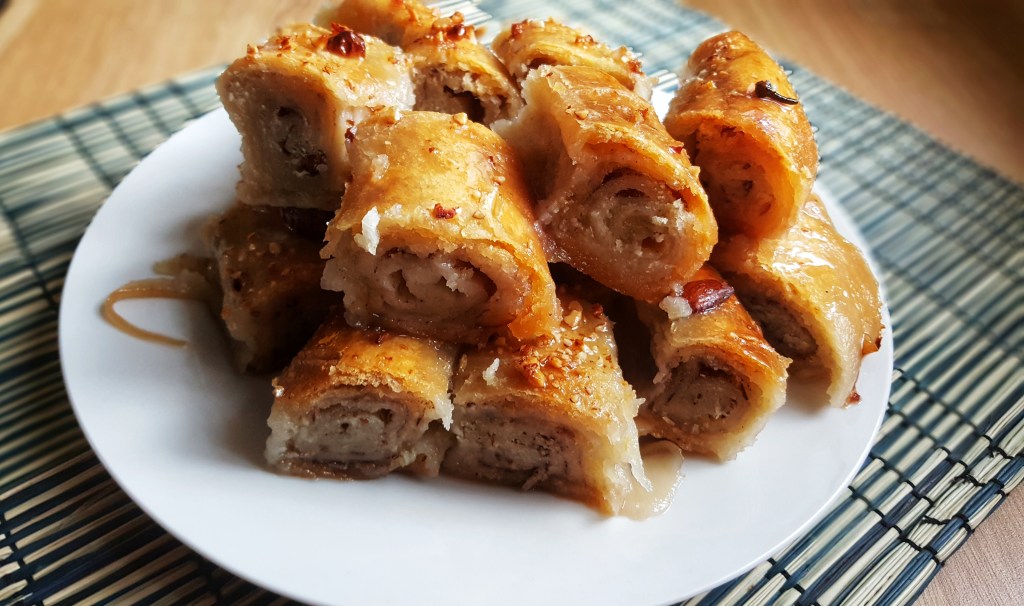 There are savoury and sweet versions of kattimeria, however, the sweet, rolled up version is the most popular.
Let's see how easy it is to make it this Sunday, and why not add a bit of ice cream just to tip it off?
Ingredients:
For The Dough
1 kg '00' flour
1 cup oil,vegetable/sunflower
1 tsp vinegar
1,5 cup water, approximately
For The Filling
250 gr single cream
150 gr almonds,roughly chopped
some cinnamon
For The Syrup
3 cups sugar
3 cups water
1 cinnamon stick
Method:
Pre heat the oven at 180°C.
Make the dough by mixing the flour and oil together and start rubbing the mixture with your fingers until it becomes like breadcrumbs.
Add the water and vinegar and start kneading for about 5 minutes, until everything is well mixed and the dough becomes soft.
Leave the dough to rest for approximately 30 minutes.
In the meantime, start preparing the syrup by mixing the water, sugar and cinnamon stick in a small pan and as soon as it starts bubbling, let it boil for exactly 3 more minutes before removing it from the heat and let it aside to cool.
After the dough is rested, split it into 4 equal pieces. Take the first piece and use the rolling pin to flatten it out as much as yoy can. The ideal would be to make the dough sheet as thin as possible.
Estimate 5 tablespoons the fresh cream and spread it on the dough evenly. Then, sprinkle a few almonds with cinnamon too.
Then, roll the dough tightly and put it in a tray while creating a spiral.
Do the same with the other 3 pieces and place them in the tray.
Wet the top of the spiral dough with some cream and the chopped almonds.
Place the dessert in the oven and bake for about 1 hour.
When it's evenly baked, take out of the oven and pour the syrup on the top. You should allow it to absorb all the syrup before serving, ideally overnight.