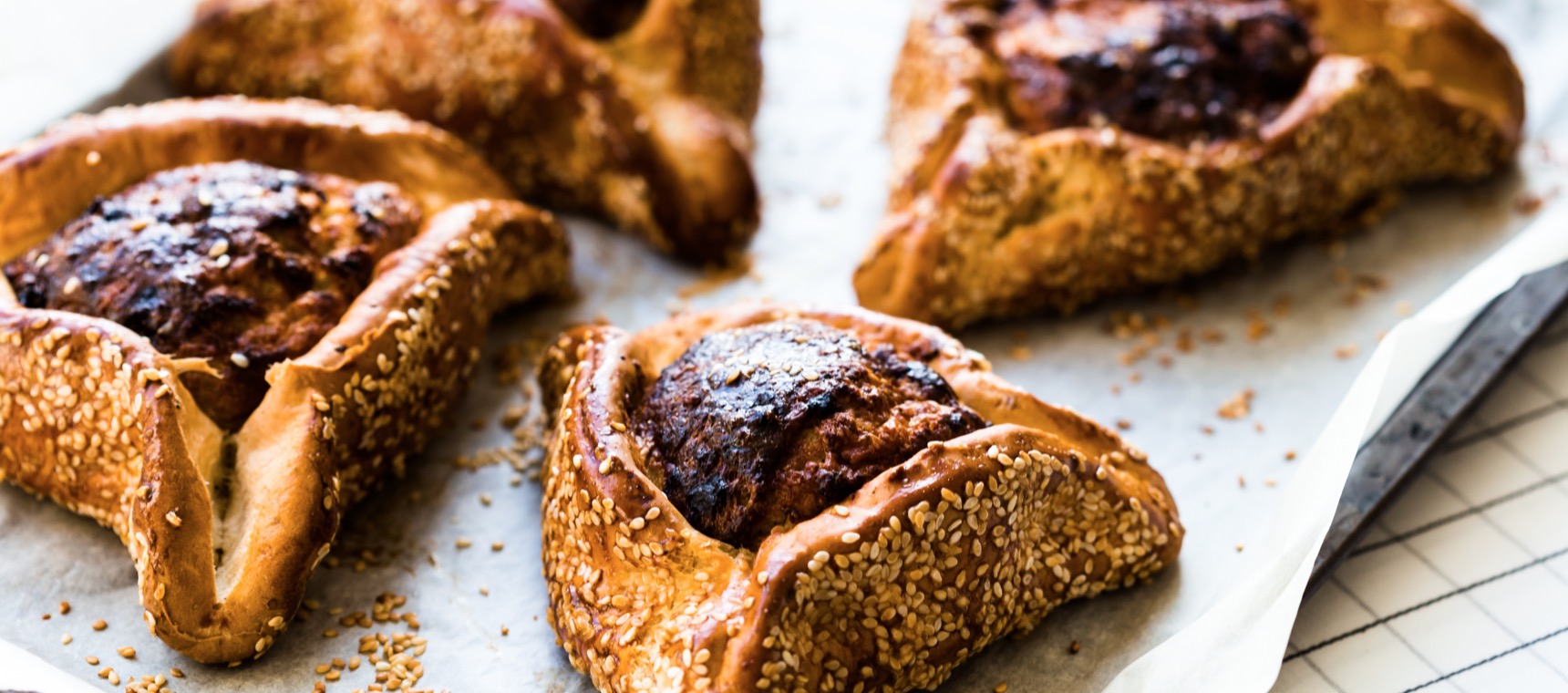 On Holy Thursday (3 days before Easter) Cypriot households make traditional Flaounes. This Cypriot cheese-filled pastry filled with ground mahlepi in the dough which gives a hint of almond flavor.
Ingredients
Ingredients for the dough:
• 750 g hard wheat flour
• 60 g olive oil
• 1 teaspoon dry active yeast
• 400 g water
• pinch of salt
Ingredients for the filling:
• 500 g sweet gruyere cheese
• 200 g grated halloumi cheese
• 1 teaspoon dried mint leaves or lemon balm leaves
• 1 teaspoon mastic
• 1 teaspoon machlepi
• 1 teaspoon ground cinnamon
• 200 g raisins
• 3 eggs
• 80 g granulated sugar
• 80 g fine semolina flour
Ingredients for serving:
• honey
• cinnamon
• egg for brushing and sesame for sprinkling
Preparation
1. In a bowl, mix the yeast with water
2. Add the olive oil, salt, water, and the flour, mix all the ingredients for the dough until it is soft and elastic. Cover with a towel and allow it to rest for at least 1 hour.
3. Preheat the oven to 200 οC (Fan mode).
4. Mix all the ingredients for the filing in a bowl.
5. Divide the dough into 3 pieces.
6. Roll out each piece to a 3 cm thickness.
7. Cut into small square pieces (20×20 cm).
8. Add the filling* in the middle of each square.
9. Fold the two opposite sides of the square inward.
10. In the same way, fold the other two sides and with a fork push the corners to get stuck.
11. Bake them for 25 minutes.
12. You can serve them hot with honey and cinnamon.
Tips
*the filing must be 80g
You can create a square or rectangular "nest". Brush the tops with egg and sprinkle with some sesame seeds to make them look more appealing!!