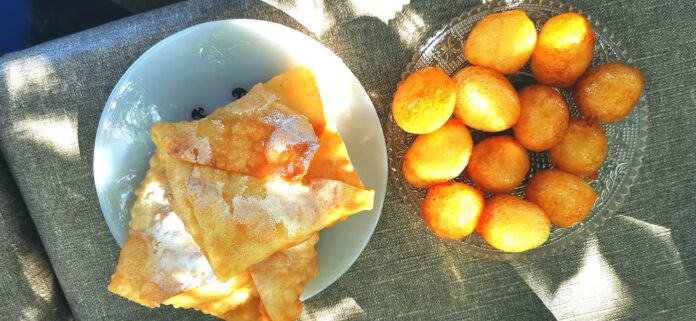 One of our favourite delicacies at "panigyria" in Cyprus are loukoumades, also called lokmades (mini doughnuts) and shiamishi, which are only made in Cyprus.
Shiamishi, is one of the most popular sweets in Cyprus.
Shamishi is made with homemade phyllo filled with an aromatic, sweet semolina cream, flour flavoured with anthonero (rosewater), and mastic.  The sweet is deep-fried and served hot with granulated sugar on top.
Shamishi has been produced in Cyprus since the 19th century and is considered a traditional delicacy of Cyprus's traditional cuisine.
Loukoumades, are pastries made of leavened and deep-fried dough, soaked in syrup or honey, sometimes coated with cinnamon or other ingredients. The dish has been around as early as the 13th century.
This internationally known, decadent, and sugar-packed dessert is usually made with a mixture of flour, sugar, yeast, and salt, which is deep-fried and then bathed in syrup or honey. The origin of lokma fritters is ancient but often debated. It is presumed that they first appeared in Greece or Turkey, though some suggest an Arabic origin.
Alternatively, loukoumades can be topped with fresh cream, chocolate, sesame seeds, or walnuts.
Both of these desserts are vegan.