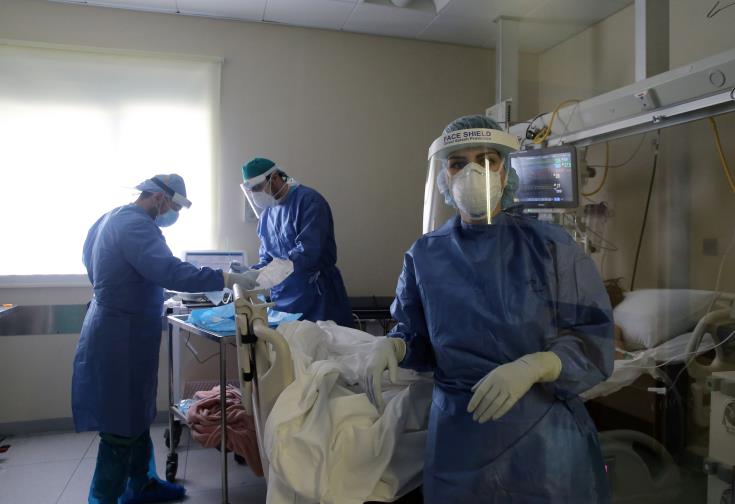 Health professionals at hospitals across Cyprus have been working around the clock, away from their families, immersing themselves in the effort to combat the COVID-19 pandemic. The Cyprus News Agency's photographic lens has captured their daily toil to take care of and comfort patients suffering from the disease.
"The greatest worry people working in ICUs have is not to transfer the virus to their loved ones," head nurse at the Nicosia General Hospital Costas Koulas tells CNA, adding that "many of them have children, people in their families belonging to vulnerable groups of people, elderly."
"Their fear is for their families not to fall ill," he notes.
"It is a heartbreaking situation because one hears from the various media, particularly from abroad, that so many young people are dying because this virus does not discriminate, the staff are afraid that they may contract the virus and possibly infect others," he says.
However, he stressed, "there is good will among them to play their part in treating these patients, despite the fear they feel."
Koulas also says that during these crucial times the necessary staff are working double shifts in order for the job to be done. "Working a double shift is a phenomenon happening often. People are tired, working hours are exhausting," he notes, congratulating the staff and in particular nursing staff for their professionalism during this period and sending he message that the management will stand by them until the crisis is over.
Many health professionals are living in hotels, away from their homes for weeks now, he says, adding that the fact that the number of people contracting the virus is beginning to drop, fills them with joy and optimism.
Replying to a question about the situation in ICUs he says that right now the situation is better and the number of cases has recorded a drop, in particular suspicious cases.
He urged people to continue listening to the advice of experts and to abide by measures so that the crisis, which is causing suffering around the world, can be overcome as soon as possible.
Dr Marios Loizou, the Scientific Director at the Nicosia Directorate of the Cyprus State Health Services Organisation, told CNA that "we can be optimistic," adding however that "we must not forget even for a moment that the danger is still there."
"Until an effective vaccine and treatment are found we need to religiously follow the measures we have followed until not," he stressed.
Asked about the readiness of ICUs in case of a second wave after the summer, Loizou said that "right now ICUs are in a much better state than when the pandemic started," adding however that "there is still a problem."

ICUs need to be staffed both with medical, nursing and other staff, he noted, adding that efforts and procedures are ongoing and that the staff is being trained.
In an extreme scenario, where all available ICU beds have to be used as was the case in many countries abroad, "things will not be so pleasant."
He also said however that every day we have to prepare more means that at least in theory we will be more ready to respond to an extreme scenario.
Loizou also said that the goal is once all units for COVID-19 operate there will be about 120 beds available exclusively for COVID-19 patients.
Source: CNA