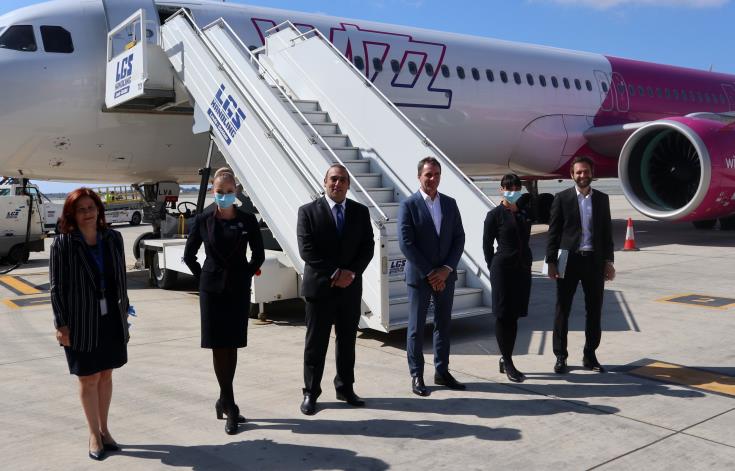 Transport, Communications and Works Minister, Yiannis Karousos, has said that it is expected that about 600,000 passengers will arrive in Cyprus in August.
In statements at Larnaka airport Karousos said that the effort to restore the country's connectivity starts with the best possible way since it has been agreed that one the largest airlines of Europe Wizz Air will establish a base at Larnaka airport.
To begin with, two airplanes will be used, followed by more with the airline planning to offer another 11 flights to 11 airports and 7 countries.
Wizz Air announced today its 28th base in Larnaca.
The airline will base 2 Airbus A320 aircraft at Larnaca airport in July 2020. Along with the establishment of the new base, Wizz Air announced eleven new services to seven countries from Larnaca starting from July 2020.
As part of its expansion, the airline continues to increase its operations in Cyprus by 60%.
"The base establishment in Larnaca will create over 100 new direct jobs with the airline and even more jobs in associated industries," a Wizz Air press release says.
"The 2 Airbus A320 aircraft will support the operations of eleven new routes to Athens, Thessaloniki, Billund, Copenhagen, Dortmund, Memmingen, Karlsruhe/Baden Baden, Salzburg, Suceava, Turku, Wroclaw totalling in one million seats on sale from Larnaca in 2020," it adds.
József Váradi, CEO of Wizz Air Group said that "after ten years of successful operations to Larnaka International Airport, I am delighted to announce our newest base here, as we see the potential and the demand for low cost travel in Cyprus which is one of the most popular and rapidly developing tourist destinations."
"The benefits for Cyprus will be significant, both for tourism and the economy, since jobs will be created," Karousos said in his statements, adding that it is also important that the company's intention is not to compete with other airlines but rather to create additional passenger traffic.
All government departments are coordinating and are in contact with large airlines, he noted, adding that "prospects are quite good."
Replying to a question he also informed that the effort is for Cyprus to have flights to and from new destinations.
Asked about the easing of restrictive measures the Transport Minister said that measures will be gradually lifted from June 9 and June 20 for a specific number of countries, adding that no negative test certificate will be required by those passengers
According to estimates the government has made on the basis of data at its disposal until today, he said, "in August we will have about 600,000 passengers in Cyprus."
Replying to a question as to private jets landing in Cyprus during the lockdown period, he said that all flights which landed had acquired the necessary permit and the protocols followed were the same for everyone. "The virus does not distinguish between private or commercial flights," he pointed out.
On his part, Tourism Deputy Minister, Savvas Perdios ,said Wizz Air's decision was a "great success for Cyprus, particularly under current conditions."
He reiterated that it is known which airlines will manage to survive and how many flights they will be able to make across the world.
He further noted that if one exempts flights to Athens and Salonica which are very important for Cypriots travelling abroad, it is not by chance that all the other flights by Wizz Air are of a tourist nature and will be originating from countries we had always wanted to be connected with.
"They are very important countries for Cyprus in the context of our own national tourism strategy," he added.
Asked whether a letter sent by Ministers of Foreign Affairs, Transport and himself to various countries, airlines and tour operators in an effort to attract tourism to Cyprus he replied that the letter was sent a couple of days ago and several teleconferences are set to take place next weeks.
He expressed optimism that word is going around abroad and by international media about Cyprus and what it has achieved and how it will tackle any difficult situations that may occur.
The fact that Cyprus has decided to treat people who contract the disease during their stay on the island and to offer their family a place to stay is something only a few countries are able to do, he explained.
"This has been greatly appreciated by our partners abroad and will be one of our strong points this summer," he said.
Source: CNA