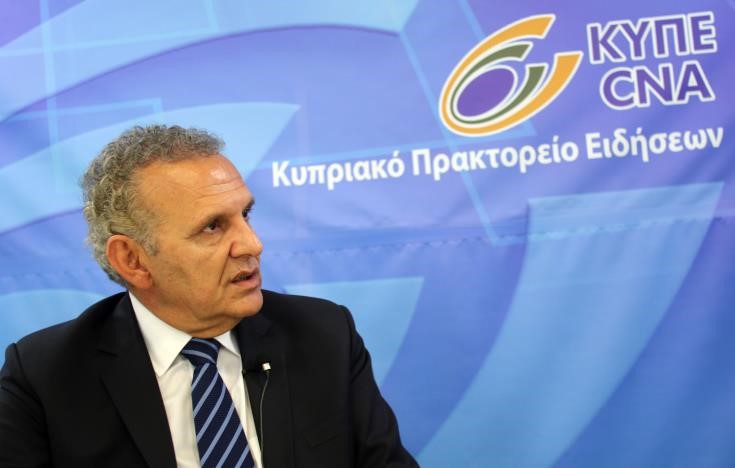 The contribution of our diaspora to those stranded abroad, to students and overseas Cypriots in need is immense in these difficult times, as the spread of COVID-19 continues, said Presidential Commissioner Photis Photiou.
Speaking to CNA, Photiou noted that the diaspora is present today, as it was always when Cyprus needed its assistance.
The Presidential Commissioner said that he is in constant contact with all Cypriot federations around the world and is speaking regularly on the phone with the heads of these organizations, in order to identify potential problems or needs due to COVID-19, improve coordination and tackle problems in Cypriot communities abroad.
Moreover, he referred to the death toll of Cypriots, particularly in the United Kingdom and the United States, and said that there is an effort to help the affected families through local organizations. Some of these families lose their beloved ones without seeing them and in some instances,  they require psychological support, he said. He also pointed to the efforts of a group of people to support the elderly, while others help with food supplies.
All Cypriot organizations, in cooperation with Cyprus Embassies and the Foreign Ministry, do what they can to assist students and Cypriots stranded in these countries, Photiou added.
He mentioned the National Federation of Cypriots in the UK in particular, saying that its President, Christos Karaolis and the rest of its members are making a huge effort to help their compatriots, students and the diaspora and deserve congratulations.
Photiou said moreover that he is in touch with POMAK President Andreas Papaevripides, PSEKA President Philip Christopher and the heads of other organizations, in order to identify problems and try to solve them to the extent possible.
The Presidential Commissioner noted finally that they agreed with NEPOMAK and other youth organizations to cancel youth trips to Cyprus this summer. Instead they will channel the funds to provide online courses, in cooperation with various Universities.
Apart from Greek language courses, they will extend these programs to cover Cyprus history, traditions and other areas of interest, Photiou added.
The decision whether to organize the 21st World Conference of Diaspora Cypriots, later this summer, will be taken in mid-May, Photiou said, adding that the annual conference of the Federation of Cypriot American Organizations, due in May 27-30, has been postponed.
Source: CNA