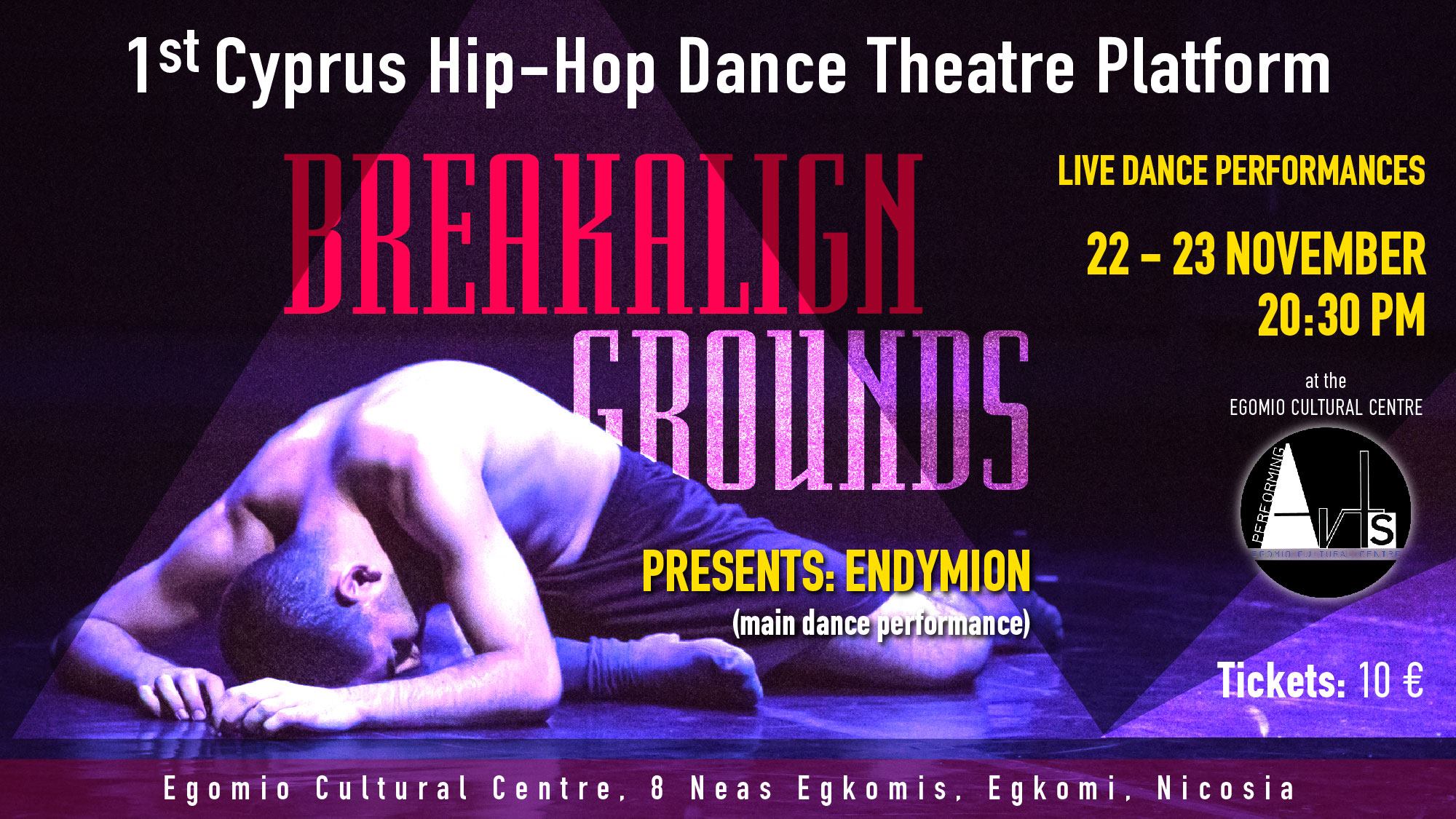 Breakalign Grounds is that the first hip-hop dance theatre platform initiative by Nefeli Tsiouti of Project Breakalign. This platform aims to showcase the upcoming talents in hip-hop dance theatre of the island of Cyprus. Curated by Nefeli Tsiouti (CY), and guided by the dramatic art of Christina Kostoula (GR/UK), this night will present a brand new perspective of hip-hop, together with dance theatre dramatic art.
The performance can begin with three short hip-hop dance theatre items by:
• the player Natalia Panagiotou, together with her solo 'Diha'
• the dancer Nefeli Tsiouti (sMash) together with her solo 'Locus Amoenus'
• the dancers Noutsa Snouts Poulouzasvili & Tonia XNightmarex Kyriakou (Bgirl Nightmare) with their duet 'Artists Anonymous'
The main subsidizing for this platform has been given by the Cultural Services of the Ministry of Culture & Education, for the growth of the piece 'Endymion', that was initially developed as a part of the Artists in Residence at the Dance House Nicosia between March – june 2018. The piece 'Endymion' is choreographed by Nefeli Tsiouti, and Christina Kostoula as assistant of dramatic art, and performers Kyriakos Blaze Ierodiakonou, Giannis Economides and Constantinos Chuckss Tsiakkas (Chucks). The duration of the piece is 50 minutes.
Live Dance Performances by:
Kyriakos Ierodiakonou (Blaze)
Constantinos Tsiakkas (Chucks)
Giannis Economides – TRIO
Nefeli Tsiouti (sMash) – SOLO
Noutsa Poulouzasvili (Noutsa)
Tonia Kyriakou (Nightmare) – DUET
Natalia Panagiotou – SOLO