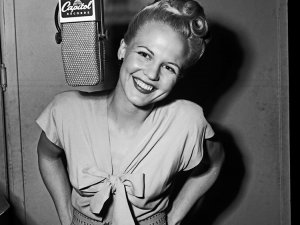 "Her wonderful talent should be studied by all vocalists; her majestic presence is pure class and charm." – Frank Sinatra
The Steppin' Out jazz group invitations you for their tribute event for one of the best Jazz vocalists of the 20th century, Peggy Lee, at Technopolis 20 in Paphos, on Friday, 23rd of November 2018, at 8pm.
Peggy Lee's vocal flexibility and cool, breathy voice brought sultry distinction to big band showstoppers, pop ballads and emotional laments. She was considered in the same league as Billie holiday, Mildred Bailey, Fitzgerald, and singer. Her alluring tone, distinctive delivery, breadth of material, and talent to write several of her own songs created her one of the most charming artists of the vocal era, from her breakthrough on the Benny Goodman hit 'Why don't you do Right' to her many solo successes, singles as well as 'Lover' and 'Fever' that showed her bewitching vocal power, a balance between sultry swing and impeccable musicianship.
The band consists by Alice Ayvazian (voice), Konstantinos Efraimidis (clarinet/saxophone), Dimitris Miaris (piano) and Costas Challoumas (double bass).