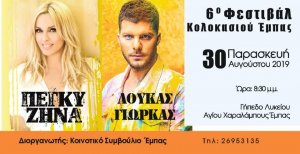 The Community Council of Emba organizes the 6th Annual Kolokasi Festival on Friday, 30th of August, 2019, at 20:30, at the stadium of the Emba High School.
The festival includes performances by the popular singers Peggy Zina and Loukas Giorkas.
Pre-sale ticekts (€15 with food) are available at:
Emba Community Council
Pit Stop Minimarket in Emba
Emba Minimarket
Tickets will also be sold at the entrance at the same price.