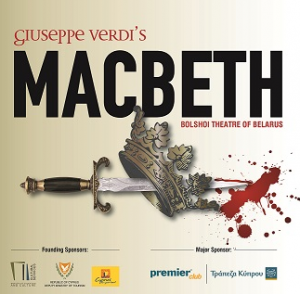 Giuseppe Verdi's masterpiece Macbeth is presented in the context of the 21st Pafos Aphrodite Festival, on 30, 31 August and 1 September at the square of the Medieval Castle in Pafos in a production by the National Academic Bolshoi Opera and Ballet Theatre of Belarus.
Τhe dramatic opera Macbeth (Macbetto) by Giuseppe Verdi, based on William Shakespeare's homonymous drama, consists of four acts with an Italian libretto by Francesco Maria Piave. It premiered on 14 March 1847 at the Teatro della Pergola in Florence.
In Macbeth, Verdi surpasses the conventional frames of his time and composes an operatic work of theatrical power and characters that possess extraordinary psychological depth and intensity, whereas with dexterous orchestration he succeeds in dramatically sketching violence, conspiracy and death.
Macbeth: the plot 
The plot of the opera unfolds in 11th century Scotland and narrates the rising of general Macbeth to the throne of Scotland after he murders king Duncan and general Banquo. Accomplice and instigator of the criminal acts is Macbeth's wife, Lady Macbeth. In the end, she commits suicide burdened by guilt and he is killed in battle by noble Macduff who defends Malcolm's (Duncan's son) rightful claim to the throne.
For more information you may contact Pafos Aphrodite Festival Cyprus in Pafos on 26822218 or visit www.pafc.com.cy
Ticket prices: €25, €40, €50 και €70.
Simultaneous translation in Greek, English and Russian via subtitles.