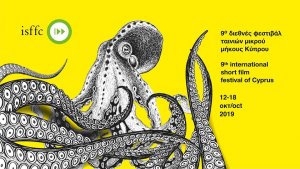 The International Short Film Festival of Cyprus returns for its 9th international edition and invites everyone to the largest short film festival of Cyprus. Fiction, animation, experimental and documentary shorts compete for the Festival awards. Alongside its two main programmes – international and national competition – the Festival showcases film tributes, masterclasses and other parallel events. In 2019, the ISFFC was selected by the European Film Academy to participate as a partner into the exclusive circle οf the Academy's network of accredited festivals, with the right to nominate one short film from its competition as a candidate for the European Film Awards short film category.
Join us for the largest short film festival on the island!
Subtitles: All films screened with Greek & English subtitles
Suitable for 18+ years of age.
Organisers: Cultural Services of the Ministry of Education & Culture and Rialto Theatre