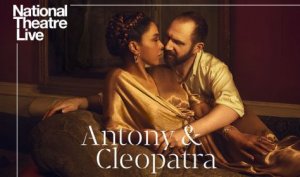 Broadcast live from the National Theatre, Ralph Fiennes and Sophie Okonedo play Shakespeare's famous fated couple in his nice tragedy of politics, passion and power.
The National Theatre's autumn blockbuster, receiving multiple reviews, this production is slick, fashionable and modern with a large revolving set (including a swimming pool on stage), a big supporting cast and lovely costumes, and real snakes on stage (!)
In the aftermath of Julius Caesar's assassination, General Mark Anthony now rules alongside his fellow defenders of Rome. however the Egyptian Queen Cleopatra and Mark Anthony have fallen fiercely in love. Having neglected his political duties while in Egypt, Antony returns to Rome, to attempt to restore his political position. Torn between his duty to Rome and his devotion to Cleopatra, Antony's actions spark a war that threatens to destroy their love.
Director Simon Godwin returns to National Theatre Live screens with this hotly anticipated production, following broadcasts of Twelfth night, Man and Superman and also the Beaux' Stratagem.