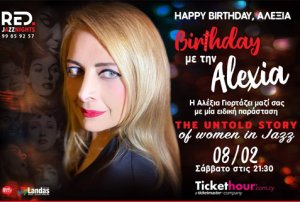 In a Special performance, marking Alexia's birthday, Alexia pays tribute to the great female Voices of Jazz and Gospel, that have been Alexia's teachers and mentors growing up – Nina Simone, Billie Holiday, Ella Fitzgerald, Mahalia Jackson, Felicia Sanders, Anita O'Day, Betty Carter, Abbey Lincoln etc. The journey into who they were, how they felt about the world, what inspired then, and how they impacted society, is all in the songs they chose to sing. Songs like, "Strange Fruit", "Just a Closer Walk with Thee", "Four Women", "Throw it Away", etc.
The Untold Story of Women in Jazz also sheds light on Alexia's story, with songs from her critically acclaimed album, Re-bE, and her GRAMMY Recognized album, "Birds Have to Fly".
Alexia brings the audience closer to the essence of Jazz, by breaking misconceptions and misunderstandings of what Jazz is. The Untold Story is geared towards all who appreciate Music.
Alexia is accompanied by a 5-member orchestra of select musicians of the European Contemporary Jazz Scene.
Tickets: Tickethour Cyprus, ACS Courier Cyprus
Information: 99059257