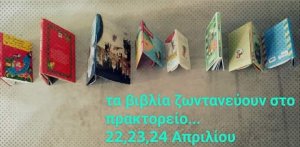 For children 7-11 years old
In this workshop, kids will have the opportunity to introduce their favorite book to the group and at the same time to re-discover it through games, improvisations, and theatrical activities. The goal is to share the emotions offered by a book special to us with the group and, at the same time, to get to know each other better by exchanging our favorite stories with the other kids.
A meeting that includes exploring favorite and unknown books, single and group readings, improvised narratives with the use of a microphone, a funny book dancing, pantomime with pictures and an excellent excavation!
The books are going to be treated throughout the games, with special care and attention!
The three-day workshop is coordinated by Nikoletta Verykiou and Elena Pavlidou.
Time: 10:00 – 13:00