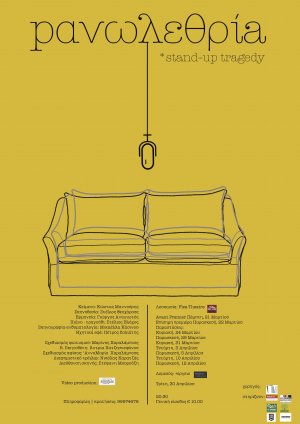 Theater group ANTI-SKINO presents the show "panolethria • stand-up tragedy".
Efthimis Telemesis stands in front of a god-machine-microphone and begins to speak as never before. He speaks courageously and honestly to a non-existent, however absolutely imposed audience
The play, moving between a monologue, a performance and a stand-up comedy, deals with the final loss of the other from our lives.
Credits:
Text: Kostas Manouris
Directed by: Stelios Theocharous
Interpretation: Giorgos Anagiotos
Piano – song: Stelios Vlachos
Scenography – Costume Design: Mikelella Kasinos
Sound Effects: Petros Soliatis
Lighting design: Marinos Charalambous
B. Director: Andria Hadjistefanou
Poster design:'AnnaMaria Charalambous
Trailer: Nicolas Karatzas.
Stage address: Stephanis Mourouzis.