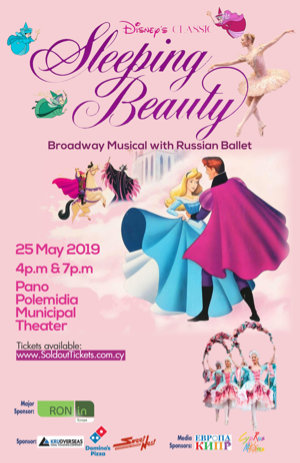 Based on one of the most treasured Disney animated films of all time and featuring some of the most memorable songs Disney's Sleeping Beauty Kids is pure delightful fun!
This Classic Fairy Tale is affordable, creative, unforgettable musical theatre experience. A work of Art, talent, enriched with grace and beauty of Russian Ballet with combination of colourful costumes and a magical setting.
It is Suitable for a younger audience and this loving, energetic professional performance will make your evening special!
Presented by: Russian Professional Art School
Short Summary
The Princess Aurora is cursed at her christening by an evil fairy. On her 16th birthday, she pricks her finger on a poisoned spindle but the good fairies protect her from the spell, so she falls into a sleep. The spell can only be broken with true love's kiss.
Music: Pyotr Ilyich Tchaikovsky, Tom Adair, Sammy Fain, Jack Lawrence
Lyrics : Tom Adair, Winston Hibler, Ted Sears according the story by Charles Perrault