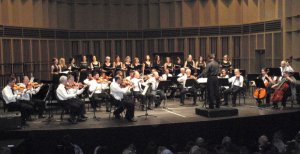 The "Friends of Harmony" invite you to the Christmas Concert of the Nicosia Concert Orchestra and the "Armonia" Chorus Ensemble directed by Stavros Papantoniou, on Saturday, December 22nd, 20:30, at Pallas Theatre, Nicosia.
Soloists: Elli Koutsouli, Tasoula Vorka – soprano, Marios Andreou – tenor, Kyriacos Sophocleous – barytone.
The concert features Christmas, Byzantine and other season compositions.