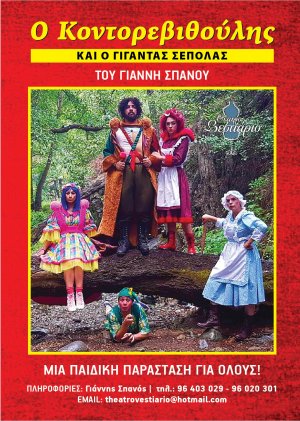 "Kontorevithoulis and the giant Sepola" is the new production from the children's theater THEATER VESTIARIO
The adaptation – script, song lyrics and direction again belong to the actor – author Yannis Spanos. The music is signed again by Vasso Vasileiou while the choreographies are by George Nicolaou. The scenery – dolls – masks and constructions, are by Androulla Empedokleous and the fantastic costumes are created by Dora Chiotis. The photo is taken by Constantina Loizou.
Their fantastic voices in the songs are also given to us by the actors Antonis Lapithiotis and Antonis Faris.
Stage technician – sound engineer – Marinos Spanos.
Five talented professional actors are singing and dancing:
Giannis Spanos, Myria Holdarou, Xanthia Argyrou – Stavros Konstantinou and Aphrodite Spanou Loizou.