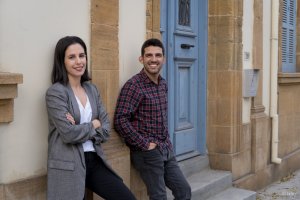 Following their successful autumn concert in October, Cyprus chamber orchestra is prepared to get back on a stage, for a Christmas concert on Monday December 17th at 20:30, at Pallas Theater in Nicosia.
The artistic directors of the orchestra, Nihat Agdac and Natalie Neophytou, are going to be sharing the stage with twenty professional Greek and Turkish Cypriots musicians performing Wolfgang Amadeus Mozart Sinfonia Concertante for violin, viola and orchestra and also the Joseph Haydn ''Farewell» Symphony. Soloists of the night are going to be Marlene Ito and Martin von der Nahmer, from the Berliner Philharmoniker.
The orchestra has no conductor, which allows the musicians to work as close as possible to every other for the sake of the ensemble, music and their partnership. Cyprus chamber orchestra is additionally aiming to emphasize the fact that music connects people, regardless of ethnic background, colour, nationality and social status, through the power of music.