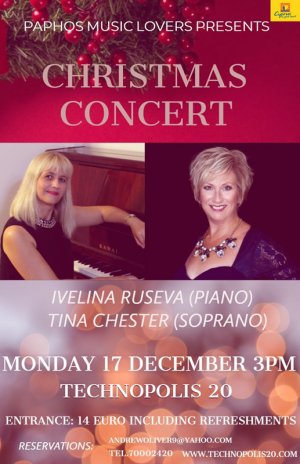 The Paphos Music Lovers Association Winter festival presents their annual 'Christmas Concert' at Technopolis 20, on Monday, 17th of December 2018, at 3pm.
Join piano player Ivelina Ruseva in a delightful recital of well-loved classics and later some classical and trendy Christmas songs and carols from soprano Tina Chester. Enjoy freshly-brewed coffee (or juice, or tea) and traditional Bulgarian treats.
Please join us after the concert for a seasonal celebration with home-made mince pies, created to a British recipe, together with German Gluhwein, (with an alcohol-free alternative) freshly made on the premises.