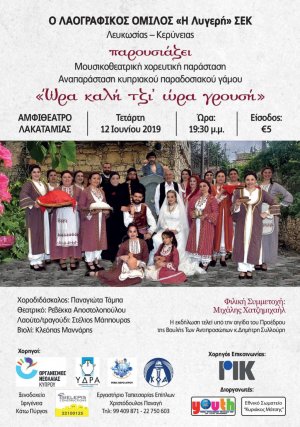 The Folklore Group "Lygeri" of SEK Nicosia-Kyrenia prepared this year a beautiful journey to tradition. Specifically, this time our journey presents the Cypriot tradition through a musical-theatrical and dance performance, in which an authentic revival of the customs of a traditional Cypriot wedding takes place.
A traditional Cypriot wedding encompasses customs such as the stitching of the bed, the bride and the groom's adornment, the dancing of the in-laws, even supplying the traditional dish "resi" that will be offered to all of our guests. You will also experience the custom of gifting money to the bride and groom through dancing as it was traditionally done back then!
There will be live music with instruments such as violin and lute and the friendly participation of the amazing Michalis Hatzimichael.
This event is under the auspices of the President of the House of Representatives, Mr. Syllouris Demetris.
Dance instructor: Panagiota Tamba
Theatrical Dialogues: Revekka Apostolopoulou
Luto/Singing: Stelios Mappouras
Violin: Kleopas Mannaris
Wednesday, 12th of June 2019 at 19:30 at Lakatamia Municipal Amphitheatre
Entrance: EUR 5.00