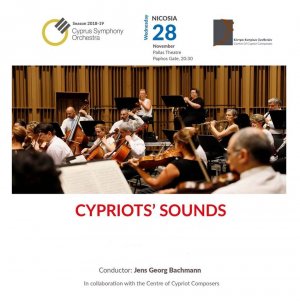 The 2nd concert under the title "Cypriots' Sounds" that takes place within the 7th New Music festival of the Centre of Cypriot Composers is a reality.
Savvas Savvas, president of the Centre of Cypriot Composers told us regarding this new collaboration of the Centre with the CySO Foundation:
"It is with great pleasure and joy that the Cyprus symphony orchestra can participate for the 2nd consecutive year in our annual, well-established festival to present premieres of contemporary music for symphony orchestra by Cypriot composers. The New Music festival is organized in collaboration with the Centre of Music research, Innovation and International Networking and the Cultural Services of the MoEC.
The Centre of Cypriot Composers aims to ensure the continuation of this festival as well as to further its collaboration with the CySO in other concerts that will involve Cypriot creators. The main objective of the Centre is to promote noteworthy works of music, with priority to new compositions, while maintaining diversity and variety of musical expression."
A. Yangopoulos: Two Fantasies for Orchestra
Y. Stavrou: Ballet for Orchestra (Fragment)
A. Moustoukis: music for here
T. Stylianou: Artante
A. Skordis: "In…Se" (Fragment)
Conductor: Jens Georg Bachmann
In collaboration with the Centre of Cypriot Composers