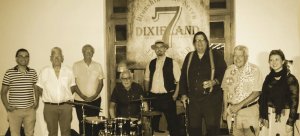 Dixieland at Darcy's with Droushia Dixie 7.
Saturday 11 May 1pm
Darcy's Restaurant (outside) Pegeia Paphos
Tickets: €17.50 including BBQ
Box Office: Tel: 99136289 / 26936926
Online Tickets and Information: www.paphosmusiclovers.com
Ticket Outlets: Darcy's Pegeia, Carmine's Pegeia, Computer SOS Chlorakas
Sponsored by Blevins Franks and organized by Paphos Music Lovers as part of the Spring Music Festival. All proceeds to the PML fund to support local arts projects.