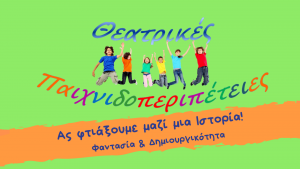 A fun and creative workshop for children 6-10 years old with the author, drama games practitioner and Voice Artist, Eleana Pastella.
This workshop aims at boosting the children's' creativity, imagination, self-expression, emotional intelligence and teamwork within a fun environment.
"Let's make our own story" is one of Θεατρικές Παιχνιδοπεριπέτειες favourite drama games, yet in this workshop the children will have the opportunity, under the guidance of Eleana, to look deeper into the characters, their feelings and reactions, imagine more detailed locations but also situations and dramatize the most fascinating scenes of their own story.
Imagination hats and carefree capes will be offered (complimentary) at the workshop's entrance!
30% discount to siblings
Limited availability! Reserve your child's/children's place at 99377028.