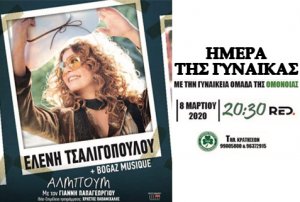 Eleni Tsaligopoulou, one of the most distinguished singers of Greece, returns to Cyprus this March for performances along with her band Boğaz Musique.
Songs from our tradition, rebetiko, laika, songs by great composers, modern and classic, but also newer songs from the album of Eleni Tsaligopoulou and Boğaz Musique.
The performance on the 8th of March is dedicated to Women and is organized by the Women's Football team of Omonia.
For reservations call 99805800 & 96 372915
and online at : www.Tickethour.com.cy