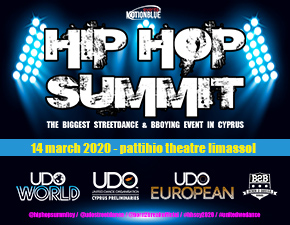 Motion Blue dance organisation presents for the 8th year in a row the biggest Streetdance & Bboying event in Cyprus.
On Saturday 14th March, at Pattihio Theatre Limassol at 4:00p.m., the best hip hop dancers from all over Cyprus will battle each other in a healthy competition, for the title of the Best! The competition is part of the UDO STREETDANCE Group and acts as Preliminaries of the WORLD UDO STREETDANCE CHAMPIONSHIPS which will be staged in August in Blackpool, UK and of the EUROPEAN UDO STREETDANCE CHAMPIONSHIPS which will take place in Kalkar Germany this May. The young bboys will have the chance to battle for their place for the International Bboying competition BORN2BREAK in Israel in October.
Judges of the event are the world-known dancers, UDO Head Judge Bruno Perrier from the France, Bboy Dudko from Israel and James Combo Marino from Los Angeles. DJ of the event is D-Mice from Total Reality Greece. The dancers will have the opportunity to participate at the dance workshops to be given in the morning of the competition.
Tickets: www.soldoutticketbox.com/