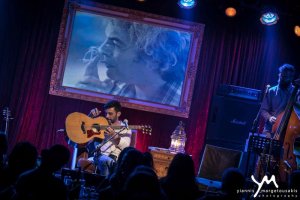 Apostolos Rizos pays tribute to prominent Greek Cypriot musician, Manos Loizos.
Apostolos Rizos encounters Manos Loizos in a music chamber, looking for the primal emotion of songs, exploring the moment they were written by their songwriter.
A performance featuring unreleased material and recordings from the personal archive of Manos Loizos, courtesy of his daughter, Myrsini Loizou.
Musicians:
Thodoris Kouelis (double bass, tzouras, effects, loops), Yiorgos Mouchtaris (double bass, electrical bass, trumpet, keyboard, loops), Apostolos Rizos (guitars, harmonica).