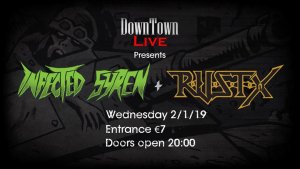 A night filled with Metal and Punk! Special guest DJ Adonis are going to be keeping you on your toes.
INFECTED SYREN
Highly energetic Punk/Metal band. Metal, Punk, Hardcore and Psychobilly, all masterfully blended together to make the band's truly unique sound. Sick music for Sick people!
R.U.S.T.X.
R.U.S.T.X is the continuation of R.U.S.T. Through the years R.U.S.T became best-known for their powerful songs and energetic stage performance, with unique acts that include motorcycles, flaming anvils, the rising of the phoenix, smashing guitars, and even theatrical acts on stage.