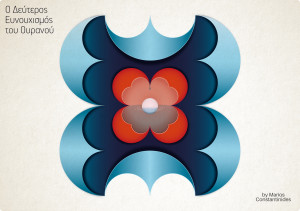 "Uranus's second castration: piece for a dancing flutist", by Brice Catherin, Melissa Garcia Carro and Eva Stavrou
Performance and presentation of the artistic process by Eva Stavrou
The second Castration of Uranus may be a composition for one flutist moving in space while playing. it's to be performed as a pagan ritual. Sound and movement must constantly receive the care proper to an ancestral ceremony.
Sounds and movements aren't synchronized as they happen, but conceived independently of each other. The performer should embrace the fact that some movements, torsions in particular, can have an influence on her sound. There's a permanent tension between the "pure" and controlled sound of the flute, and its unavoidable distortions thanks to certain movements and positions.
The composition is in open form – it's only completed by the performer's interpretation, the space, its acoustics and also the audience. Each time it's performed is therefore unique.