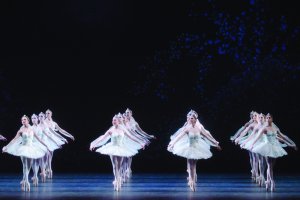 Rialto Theatre welcomes 2019 with a month full of events, consist of theatre, dance, music and cinema! 2019 may be a very special year for Rialto, since next may the theatre completes 20 years of life as one of the most important cultural institutions of the country.
January starts at Rialto with The Royal Ballet's La Bayadère broadcast live from the Royal opera house in London's Covent Garden on Friday 4th. La Bayadère tells a story of love, passion and vengeance. Nikiya, a temple dancer, is in love with the warrior Solor but the High Brahmin desires her for himself. When Nikiya spurns him, the furious High Brahmin tells princess Gamzatti, Solor's fiancee, that Solor and Nikiya are in love. In revenge, Gamzatti orders Nikiya to be killed. Solor is haunted by Nikiya's spirit and dreams of being reunited with her. At his wedding to Gamzatti he finally achieves his desire: the angry gods take vengeance for the death of Nikiya by destroying the temple, killing the whole wedding. Solor and Nikiya's spirits are reunited.
Natalia Makarova's production of this 19th-century classic ballet brings an exotic world of temple dancers and noble warriors to life. Well known musician Ludwig Minkus is considered to be one of the 'founding fathers' of Russian ballet music.
Choreography: Natalia Makarova after Marius Petipa
Music: Ludwig Minkus
The cast will feature Royal Ballet Principals Marianela Nuñez as Nikiya, Vadim Muntagirov as Solor and Natalia Osipova as Gamzatti.
Choreographer Natalia Makarova brings the 19th-century Russian classic La Bayadère to life in her adaptation of Marius Petipa's original choreography. La Bayadère was practically unknown to audiences outside Russia till Makarova bought her production to The Royal Ballet in 1989. it has since become a core work in the Company's repertory.