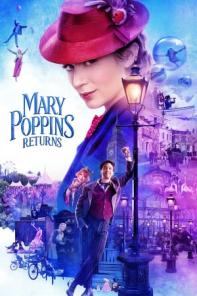 In Depression-era London, a now-grown Jane and Michael Banks, along with Michael's three children, are visited by the enigmatic Mary Poppins following a personal loss. Through her unique magical skills, and with the aid of her friend Jack, she helps the family rediscover the joy and wonder missing in their lives.
Cast:
Emily Blunt (Mary Poppins)
Lin-Manuel Miranda (Jack)
Ben Whishaw (Michael Banks)
Emily Mortimer (Jane Banks)
Director: Rob Marshall
Writer: David Magee, John DeLuca, Rob Marshall
Runtime: 131 min
Genre: Fantasy, Family, Comedy
Language: English
Subtitles: Greek
Production Year: 2018
FANEROMENI19 Festival
On the evenings of the "FANEROMENI19" events, the museums of the Foundation and the exhibition "1940 | Faces and Images. Cyprus – Greece" of the Bank of Cyprus Cultural Foundation will remain open until midnight.